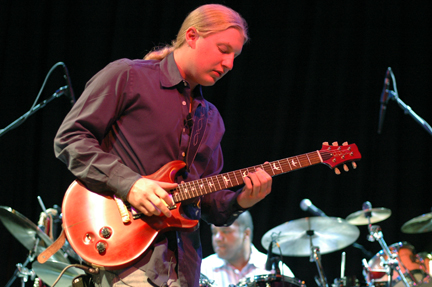 Conducted by Randall Mikkelsen April 8, 2006
(On tour bus outside the 9:30 Club, Washington, DC)
This interview was conducted for Reuters and used for an article linked here.
Questions were edited for brevity and clarity, but what follows is the complete interview. Randall was so kind as to give Philzone.com a web exclusive on the unabridged version.

---
RM: I hear you played a Harley dealership the other day.
DT: It was a change of pace. It was nice. The people running it were really nice people, so it's fun.
RM: The last time I saw you you were at Strathmore concert hall in Bethesda. Then you played a Harley dealership, and tonight it's the 9:30 club. Does the venue affect how and what you play?
DT: When you play in a Harley dealership, you don't play the Indian classical tunes or the straight-ahead jazz tunes. You kind of, depending on what venue you're at, you definitely have the set head towards wherever you're playing. Strathmore you can play some more understated stuff and you can get quieter. Some of the big clubs, like 9:30, the rock clubs, it's hard to be too subtle because you seem to get bowled over by the audience. They take you out. Sometimes the audience noise can be louder than what's happening on stage if you get too quiet, which is one of the reasons why we try to alternate the tours a little. We'll do a theater run and then we'll do a large club run. That run we did, the Strathmore, it was all performing arts centers or small theaters, so you gear the set towards that.
RM: What direction do see your music going in? The band seems to be coming into its own, selling out theaters.
DT: One of the unique things about this group is I think we can do both. I think we can alternate venues that way. If you do the theater you attract a completely different crowd than when you play the 9:30. I think it's nice to be able to get though to different audiences that way. I hope we continue to do it that way, alternate the tours or even within a tour, alternate it. I think we can hit on both and keep them both legit.
RM: Is quiet and subtle new to you?
DT: It's always been a huge part of what the band, it's definitely the way the band thinks at times, but then you know it's also nice to just air it out on the other side of that, or when your playing a gospel tune just to let it fly. Even when we're playing the clubs you do it a little more aggressively or it's a little more over the top. It's nice to be able to get all of the sides out. It's one of the benefits of being able to play with the Allman Brothers and my group, there's all these different types of music, different emotions you can touch on that you don't get if you're doing one thing.
RM: The Allmans Beacon run is a real phenomenon in modern music
DT: This year especially it was amazing. They've been amazing to be able to ride that line. People consider them a Southern rock band. People consider them to be a jam band. People consider them a blues band. It's progressive; it's borderline fusion at times. It's a lot of things. And this Beacon run, they really reflected that in the guests that we had out. They had Roy Haynes sit in. Eighty-one years old, played with Charlie Parker, and now the Allman Brothers. Pretty amazing. And then Jimmy Cobb, the last surviving member from the Kind of Blue records. Then guys like Leslie West and Peter Frampton, and then you have Ravi Coltrane sitting in. We had Cornell Dupree, Jerry Jemmott, Bernard Purdie, the (King Curtis, Aretha Franklin) rhythm section that hadn't played together in 15 years and they came out and sat in and played Memphis Soul Stew. It was a pretty amazing experience.
They're able to cross all those lines, and I think this band is much in the same way but crossing different lines, with some of the world music. We're able to have a core audience that comes out to see blues, whatever they consider what the band does, and then you throw this other stuff, you put the medicine in it.
RM: You don't really consider it medicine?
DT: In a good way, I do. It's good to turn people on to things that they wouldn't naturally gravitate toward. There's a lot of amazing music out there and I think the wider your vision is that way, I think it extends to the rest of your life.
RM: What threads do you see between the blues music you play and the eastern songs?
DT: Some of the eastern music, the devotional music, I think it's maybe closer to the gospel music of the deep South, people like Mahalia Jackson or some of the great gospel music. The qawwali music, I think there's a common thread there. You have the vocal chorus backing up the group, usually hand claps are kind of driving it, and then somebody just belting on the top of it. It's all devotional music and you're getting that emotion across. Some of the other, maybe the Indian classical, maybe reminds me a little more of some of the Delta blues stuff and also some of the great jazz improvisation. But it's all human emotion. It's all with the same themes and the same threads.
RM: You've recorded "Maki Madni" twice, for Joyful Noise and Songlines, why is that?
DT: When we did it on Songlines we did another qawwali tune ("Sahib Teri Bandi") and we kind of threw "Maki Madni" in the middle of it for a second. It's just the way we started playing it live - the first recording we did, Joyful Noise, we had a qawwali singer on it. The version we did on the next record was just the band. I felt in some ways that this record, Songlines, was going to be a breaking out of the band. It's going to turn a lot of people on to the group that were completely unfamiliar with it, and I think having the qawwali tune is a big part of what the band does and we wanted to showcase it that way.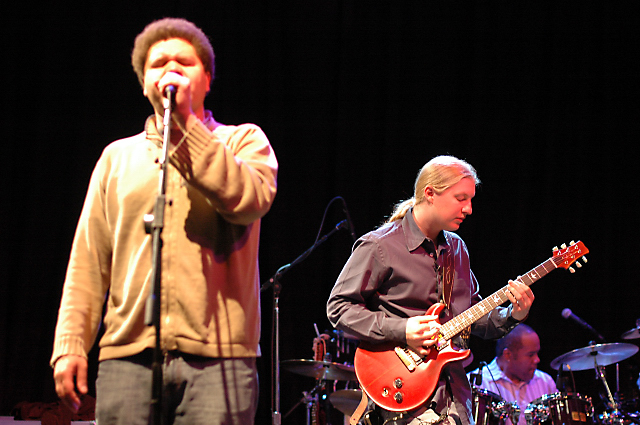 RM: What is the difference between being an Allmans sideman and leader of the Derek Trucks Band?
DT: With the Allman Brothers it's one of those organizations that kind of runs itself just on momentum. It just kind of goes. There are times when musically you take a leadership role and you're kind of responsible for pushing it in one direction or an other, but you don't have to really deal with the ins and outs of making it happen, the personalities, you don't have to deal with them in the same way. Whereas in this band you feel a little more responsible for everything that goes on. At the end of the day you're just trying to make it happen musically.
RM: Do you ever see yourself leaving the Allmans and just doing the Derek Trucks Band?
DT: Yeah I definitely see at some point just doing this. I don't know if it will be leaving the Allman Brothers or them winding down naturally. I think maybe something like the Beacon run will happen every year as long as those guys want to play. That's turned into something that I think it would be nice to keep that going. But the summer tours I could see getting smaller and smaller. I don't think they really have the desire to play all these sheds throughout the country forever.
RM: When your involvement with the Clapton tour began to leak out it was seen as seen as a Derek and the Dominos reunion, is that accurate?
DT: No, I think maybe we'll do a few tunes from that period and that record, but it's an Eric Clapton tour.
RM: So that won't be the theme?
DT: I mean I don't know for sure; we haven't started rehearsal yet. But there's no one in the band that was in Derek and the Dominos other than Eric at this point, so I can't imagine it being that. Maybe leaning more towards that period of his catalog but I'm not even sure of that.
RM: It's pretty well known you were named after the band. Is there any more to the story?
DT: I don't think so. It was a nice name. My parents loved the record.
RM: What was your parents', your dad's, involvement with the Allmans?
DT: They were around it, and my dad was a younger brother when they were doing their thing. So he was around the scene a little bit, but more as a fan and just kind of popping in you know -- made it to the Fillmore and a few of the great shows and always had amazing memories of that stuff , but he wasn't really around the scene all that much. So when I started playing it was, it felt weird to him because he knew the ups and downs of it, but he kind of knew it had to be done if musically it's supposed to happen. So when he first came on the road with me at a young age he kind of tried to shield me from things that he knew happened, he knew what went on.
RM: Can you walk that line now, through the pitfalls of rock-music life?
DT: It was really nice starting early, getting that early education, real-life education on the road. My dad was really good about making me aware even at a young age of what people were doing and what was going on, so I wasn't oblivious to it and then when you are free to do what you want you go all the way in the wrong direction. I knew what was going on and you saw the way it altered people's lives in a negative way and you choose to steer away from certain things.
RM: You mean drugs and other excesses?
DT: It's not just music, it's across the board, but it's real obvious and prevalent in musicians for some reason.
RM: You first played with the Allmans at age 11?
DT: They came out and sat in with a blues band I was playing with in Miami, that's when I first played with them.

RM: You played with Dylan in same year?
DT: Yep
RM: What was that like?
DT: With the Allman Brothers they were my first influence so for me that was pretty overwhelming and I really enjoyed that one. Dylan I obviously knew who he was, but it didn't have the same significance to me at the time - more so for my dad though, because he wrote his senior thesis on Bob Dylan so I think he was much more nervous when I was asked to sit in than I was.
RM: How old are you now?
DT: 26
RM: When's your birthday?
DT: June 8

RM: What's like to go from a young star to a mature performer?
DT: It's kind of wild because for the longest time, for over a decade you're always the youngest guy in the room, you're always the youngest musician in the room and now it's starting to shift. You're somewhere in the middle. I enjoy it more; having two kids changes they way you think about things too.
RM: Are they on the road with you?
DT: They're home now, but they're coming overseas with me for the Clapton rehearsals and the first month of shows, so we're looking forward to that.
RM: Is DTB playing gigs in Europe before joining Clapton?
DT: (At Wanee Festival in Live Oak, Fla.) We do a midnight show with my band. Then I drive to the airport and fly to France for rehearsals, so it starts immediately. We're doing two shows overseas with this band while Clapton has days off. One in London and one in Paris.
RM: What was it like recording with Clapton?
DT: It was great. That's what led to the tour. I got a call to play on his record that he was doing with J.J. Cale. Billy Preston was on it, so there were a lot of guys in the room that I was thrilled to be meeting and playing with. He was great; he was really down to Earth, talking about Clapton now. He was really easy to hang with. You felt like you've known him; he was just one of those guys, so it didn't feel awkward that way. Some guys in his position carry it on their, they wear it. It can be little difficult to relate to them immediately but he wasn't that way at all, so it felt really comfortable and then he offered me the tour. He was funny; he was like 'I know you've got a lot going on so take some time to think about it.' I said 'I don't have to roll that over in my head too many times.'"
RM: Did he say what he wanted you to contribute?
DT: Not really, he mentioned -- I think Doyle was in the room when he asked, and he mentioned it would be the three of us and he said how it was going to be exciting to have all that going on stage. So we'll see. I'm pretty sure he wants what you do, so…
Interview & photos © 2006 Randall Mikkelsen. All rights reserved.
This interview or any photos contained within may not be reprinted
anywhere in any form -- online or offline -- without the express
written consent of Randall Mikkelsen and Philzone.com.
However, we certainly encourage you to link here.
. .

. .