[back to Part Two | go to AudioZone]

Did the Reptiles overlap into the Broken Angels?
Well the Reptiles stopped being a band when Al moved to LA, Steve and Tammie moved to Florida (and now they live in Lake Tahoe), so we didn't play at all when our drummer and girl singer were living 3000 miles away. But when they got back to California, it was possible for us have reunions. We did our first Reptiles reunion in the Fall of 1994. We still get together once or twice a year -- as often as we can as a practical matter -- and we just have great fun. They're like my oldest friends; we're really comfortable with each other's music. We have fairly static setlists at this point, but every once in awhile when we're going to get together for a gig I'll send out a tape of one of my new songs and they'll learn it. We've added repertoire here and there. That's really an old-time garage band reunion scene. My other bands were always more serious and working more often.
The Broken Angels started in 1997. A friend of mine who lives around here, Dan McGonagle, is a DJ who does a Grateful Dead night at Nickie's in San Francisco on Monday nights. He started this thing in Berkeley, at a club near the Cal campus called Blake's. He wanted to do a Grateful Dead-oriented thing there, and he proposed to me that we do a night that would be half tapes and half live music. I said 'Cool.' So rather then have a steady band, I put together a different combination of players every week. There are a lot of musicians in the Bay Area who love this music. So we called the event 'The Dead Experiment' and I called the band 'David Gans and the Broken Angels.' I would invite a different combination of guys every week, and part of it was just to prove that this music is a language we can all speak and that people who had never met can get together and play.
This is not unique to the Grateful Dead world at all. There are Bluegrass jams in every corner of the world every day of the week that are the same thing: there is a known body of literature that everybody has in common, and you can get together and play. There is a known musical syntax and rhetoric that accompanies that style, and everybody who gathers speaks that language.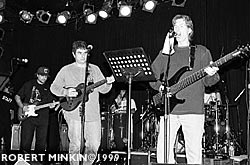 That's true of Grateful Dead music. So I could bring together guys who had never met and make magic with them, and it was really really fun. It went on for nine months -- from January to September of 1997. Then we lost that gig, and it became a little more sporadic, and then I made the Broken Angels a steady band with the same drummer, same bass player, same keyboard, and we played gigs as the Broken Angels for about another year after that. And it was during that time that Phil Lesh crossed paths with us.
Oh, the second round?
Well, he never came to the Blake's gig. There's a club that I played at a couple times a year starting in 1988 called the Ashkenaz. It's a music and dance community center in Berkeley. The owner was murdered in December of '96. A guy was causing trouble at the club, and David threw him out, and he came back and caused more trouble at the club and David threw him out again. He came back a third time with a gun and shot David Nadel, who died a few days later. Because of my affection for that guy, I found myself really committed to helping the group of people that wanted to keep the club alive.
It became a non-profit and I joined the Board. I got inspired that summer, and I said, 'Here's something we can do to help. I want to put on a series of benefit concerts for the Dead community and use the money to pay for an upgrade to the sound system here.' It was an idea that was enthusiastically endorsed by several people. A friend on the Well, a guy named Gordon Taylor, who also shows up on dead.net these days, wound up being the co-producer of these events.
I sort of revived the Broken Angels for that. I would put together an all-star band of Deadheads for each of these events. We'd do tapes from like 4 until 8, and then live music until 11 or whatever, one Sunday a month.
Around this time, I was on the Board of the Unbroken Chain Foundation working toward the first PhilHarmonia, which took place in December of 1997.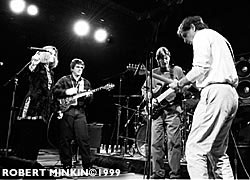 I asked Phil if he would come down and join us for this and he said 'Yes.' Jill and the boys were going to be away that weekend, and he said he would come over and kind of see how it went and sit in for a couple of tunes. We were careful with that -- first of all I didn't want to advertise him if he wasn't going to show up -- so I kept my mouth shut about it until the last day. Then when I was fairly certain he was going to make it, I put the word out that morning. And the first of our events was just hugely successful, largely because people knew that Phil was going to be there.

So he came in, and there was this immense scene going on. There was a jam going on on stage, eight different Grateful Dead musicians playing, and my wife and I were hanging out with Phil at the back of the floor. He was just, 'Wow, I've never seen anything like this!' I said, 'I know, Phil, you've never been to a Dead concert!' He was totally flabbergasted by what was going on. I said, 'Think about how you're feeling right now, multiply it by about 100, and then you'll know how you guys made us feel every fucking time.' And he got up on stage with us, and Duane Day, who's a great bass player, handed over his rig. We played Scarlet Begonias into New Speedway Boogie, and it was a gas. I guess he really got off that day, that led to his agreeing do to another benefit for the Unbroken Chain Foundation with the Broken Angels, which took place at the Maritime Hall in San Francisco on November 6.

It was funny, because we got the word out about it but it wasn't as well attended as maybe it could have been because people didn't know how much Phil was going to play. He was not committing to a huge amount of work, but he wound up joining us halfway through the first set and staying until the end, and starting the second set with us and playing half way through.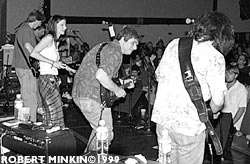 He played a lot of music with us, and it was a lot of fun. The place was fairly well attended, ultimately, and he had a really good time there. I still have the phone message: he called up and left a message on my machine about how thrilled he was by the 'high level of musicianship' that we had. I had a cello player and a lot of other really interesting musicians to play with him, and I thought we did pretty well.
It was really quite a group too. I look back and see there was many people in and out.
It was huge. It was ridiculous. It was a three-ring circus. I was sort of the traffic cop for that. I recruited everybody, and tried to sort of run the stage so that Phil could walk in and play music he was comfortable with.

I threw a few curves at him, too. The next time we did it was at the end of December at the Maritime Hall again, and then we did one more at the Fillmore Auditorium which was sold out and a hugely successful show. I had a pedal steel (Joe Goldmark) for him that night and Vince Welnick played that night, and those were like massively successful.
Did you guys know ahead of time that you would do these shows, or did you just keep going 'let's try it again'?
No, it was one at a time. I wasn't into pushing Phil. I thought it was reasonable to ask him to join us at this benefit at the Ashkenaz, because I was working on his cause, and he agreed to do it. The rest came from him. I don't remember exactly how it came up, but they said the would do a benefit with us. I think part of the thing was the Maritime Hall was providing the facilities for the PhilHarmonia,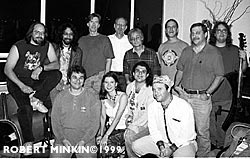 and I think one of the reasons the November 6 benefit came up was it was a way of doing like a paying gig for the Maritime that would help them offset their costs of donating energy to the PhilHarmonia. Something like that -- it wasn't something I agitated for. It happened of its own accord, sort of. He had such a good time that he wanted to do it more. That's when the December one was scheduled.
Did Bob Bralove show up for that one?
Bralove? Yes. Oh God, that was weird. Bralove sang one in that weird Tom Waits meets the Gyuto Monks mode of his. (laughter)
Did he sing a couple because I missed that one?
He did. The December one was the one with Bralove, and that was where Bob was singing He's Gone and he had completely butchered the timing of it, and Phil and I were standing there together trying to figure out where he was cutting out bars and stuff. It was an amusing adventure, following Bob through He's Gone. It was a mixed event.
Funny you mention that He's Gone because I remember seeing that in the set list and thinking till this day I think that's the only He's Gone Phil has performed since '95.
Could be. Could be.
It's got to feel nice to have been in some of these set lists.
These things were thrilling.
I remember in one of them you throwing out the surprise St. Stephen!
Vince and I conspired to do that, and it was great. The look on his face was We had rehearsed Cosmic Charlie -- he knew that was coming -- but he did not know about the St. Stephen. We just did it, and it was cool, and he was on top of it and it was great. The other surprise I threw at him was
I Saw Her Standing There, the Beatle song, at one of the Maritime shows. It took him a little awhile to grok that one. I took a few liberties with him, but I think he rose to the occasion well, and to me that was the spirit of the Grateful Dead: to not plan things out too much.
How did it feel for you to have Phil with you on stage playing these songs that you've played so much over the years, and having him play some of your own songs even?
Well, I got him to do one of my songs.
Honeydew?
Honeydew, yeah. It was exciting. He's a great musician. Playing with him was really really fun. It wasn't as great for me. I never actually got a chance to really play with Phil in what I consider a musically valid circumstance, because these things were huge three-ring circuses and I was the organizer and the band leader.

I interacted with him well in a few places. At the first Maritime show, the second set began as a trio of me and Phil and the cello player (Robin Bonnell), and went into a Dark Star that was really cool. But mostly I was giving other people room to work -- other lead guitar players, the pedal steel player, the cello player.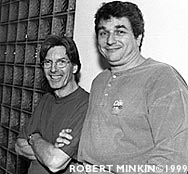 My only regret out of all this is that I never really had a chance to play in like a four- or five-piece configuration with Phil where I really go to do the mindmeld. That's kind of a disappointment to me. But the events were very artistically successful, and made people happy, and it got him interested in being out on stage again, so what the hell.


It was monumental for that. That whole concept seemed to take off. I've read before where Phil is talking about that first night walking up to Ashkenaz and just being so enlightened hearing that music being made and turning him on to this whole new idea. For us at philzone.com, those Broken Angels shows (prior to the Phil and Friends shows) is like the The Warlocks era before the Grateful Dead.
Cool.
What can expect from you as a musician in the future? Have any special projects lined up?
Oh, I have some ambitions for next year. After all that stuff ended, I decided that I really wanted to put my music on the front burner. I had taken a 20-year detour into other things. I had a day job in the late 70's that took me out on the road. I always played music, and I decided after all that stuff went down with Phil that I wanted to get serious about music before I was too old to really do it. So I hooked up with John Metzger, who does the Music Box out of Chicago, who had asked me -- I would play gigs on the East Coast and I'd play gigs on the West Coast, and he said 'How come you never play in the Midwest?' I said, 'Because I don't know anybody in the Midwest.' He said, 'Well, if I can find some gigs for you, do you want to check it out?' I said 'Sure.' So in June of '98, John put together a little 5-day tour for me in Illinois and Milwaukee. I had a great time. I went out solo acoustic and played these shows and actually made a few bucks, and saw some good audiences, and it was a gas. He booked a longer tour for me in September, and we've been working together ever since. I've been touring as a solo acoustic musician.
For a number of reasons, I can't afford to take a band on the road. I gave up my band around here in the Bay Area because after Phil and Friends started, everything else dried up. My friends in Dead cover bands are all having a hard time drawing crowds, because all anybody cares about around here is Phil and Friends. The Broken Angels ceased to be of interest after Phil wasn't playing with us any more, so I basically kind of gave up on the Bay Area for awhile and decided that I was going to get away from here to make a name for myself as a musician.
It was also important for me to get out of the band context, because everybody expected me to be playing Grateful Dead music in a band. Well, in a solo acoustic thing they don't expect to hear jams, so it was my way of uniting all my different musical phases under one identity. It was a way of distancing myself from the Grateful Dead so that I could create my own identity, and it was the only practical way that I could get out on the road and hope to break even. It's been working out really well. I was a solo performer when I first started, and always enjoyed that, and I have done a really good job of keeping it improvisational. I don't have to make eye contact with other musicians or work anything out. I can start playing and change gears whenever I want to. Actually, I've even played Dark Star as a solo acoustic number once in a while. It's fun. I gauge my performance on what I am getting from the crowd. If there's a substantial Deadhead component I'll play more Dead tunes. I am very happy to give people what they want to hear.
You can get a feel.
In Chicago at the Heartland Café, that's a singer/songwriter Mecca, John Prine and Steve Goodman's home turf, and even though I draw a large contingent of Deadheads in Chicago I also feel completely at ease playing everything else in my repertoire. Then in other places, like in New Jersey, I find myself playing at like Mexicali Blues, it's a Deadhead hangout so I find myself doing more Grateful Dead music there.
I have the ultimate flexibility, and I have a valid active repertoire of a couple of hundred tunes and I can pull things out of thin air and play cheesy old singer/songwriter stuff like Sweet Baby James, or a Beatle song. If it feels right, if somebody requests it. Sometimes I'll get into these stump-the-band situations. I'll say 'Anybody got any requests?' and somebody will ask for something really weird. And I'll play it if I know it. Sometimes I've even surprised myself with those things.
So I'm having a really good time doing it, but I'm also starting to really miss playing with other musicians. Twice a year, I go down to Live Oak, Florida, to the Magnolia Fest in the Fall and the Suwannee SpringFest in the Spring. It's put on this by this great guy named Randy Judy and his partner Beth Judy in this old Bluegrass campground place on the Suwannee River. This last time I went down in October I played with Blueground Undergrass, Crazy Fingers, the Crawfish of Love, the Toni Brown Band,and Donna the Buffalo. It was really a gas. I am starting to miss playing regularly with other guys. Later on that tour, I did a date with Blueground Undergrass, and I played a half a dozen tunes or so with them.
That you wrote with them?
No, it was covers -- Friend of the Devil, Big River, a Merle Haggard-style Sing Me Back Home, and I forget what else we played. But it was a Blueground Undergrass set with me sitting in, and it was just a thrill to play with them. They were all so enthusiastic about our working together that we have been talking about doing something in January or February where I would do like a whole set with them as my backing band. If I can find somebody to pay for it, I'd like to record with them.
I also play with the Zen Tricksters once in a while. I haven't played with moe. lately, but I wouldn't rule out working with them again.
Didn't you have a little side project with them also?
I've done two tours with moe. and some other guys called The Merry Danksters -- really, really great fun. We recorded the last tour we did, which was in December '97, and in January Jon Topper, who's moe.'s manager, and Steve Young, who's the sound guy who recorded our tour, are going to get together in Buffalo and mix those tapes. moe. has a record company now called Fatboy Records and if everybody agrees, we're going to put out a CD of The Merry Danksters from that tour. And that means we'll probably tour again to support the CD. I love that. I mean, Peter Prince, from Moon Boot Lover, who's an absolutely unique human being, this human funk machine; Gibb Droll, who's a great sort of blues-based guitarist from Virginia Beach; and Chuck and Al from moe,; and two guys from Buffalo who are old cronies of Topper's, Dave Ruch and Rolf Witt. We would all love to get back together again. moe. is so busy, and Al's got a kid now so he's like grounded in between tours. He doesn't get to get out and do extracurricular projects, but I think we would all make the time for it. If the Danksters record comes out, then probably some time in 2000 there will be a tour.
I'm interested in all kinds of other things. I'd love to get out and do any kind of work with Donna the Buffalo or Blueground Undergrass. The Zen Tricksters' West Coast booking agent calls me a couple times a year, and we talk about doing gigs together but they never seem to happen. I opened for the Zen Tricksters at Great American Music Hall a few months ago, and they played with me on Bird Song at the end of my set, and they've learned a couple of my tunes. I really like those guys, and they seem to like me so I wouldn't rule out doing more work with the Tricksters in the future as well. If I could afford it I would put a band together, but I can't so I will just see what opportunities come up. I'm going to be doing plenty of work on my solo acoustic tours.
Will the radio shows (Dead to the World, Grateful Dead Hour) continue as well?
Oh yeah, that's my day job. I love my job. I get paid to listen to Grateful Dead music -- what's not to love? Also, the Box Set is doing really really well, and I am hoping that our team will get invited to do more compilation work for the Grateful Dead. That would be a gas, too. However, the way things are in the Grateful Dead, you never expect anything and you never push for anything. You just sort of wait and see what happens. But we've been so successful with the Box that I can't imagine that they wouldn't let us do another project. We'll find out if and when that happens.
Check out Philzone.com's special AudioZone featuring highlights from all three Broken Angels' shows with
Phil Lesh.

Check out the official David Gans tour schedule.

Hear some excerpts from a David Gans solo acoustic performance:
4/10/99 - Heartland Cafe, Chicago
Blue Roses (stream | download)
River and Drown (stream | download)
An American Family (stream | download)
Brokedown Palace (stream | download)

Check out the official David Gans web site:
www.trufun.com
Order So Many Roads on line here.

A BIG Philzone.com 'thank you' to David Gans
and Truth & Fun, Inc. for making this interview possible.
A very special thanks to Robert Minkin Photography for pictures of David Gans and the Broken Angels with Phil Lesh.

For more beautiful Phil and Friends photos plus thousand's of incredible music images Robert Minkin has captured over the past 20+ years, please visit Robert Minkin's web site: http://www.minkindesign.com/photo

"I'd Love to Turn You On - An Interview with David Gans"
Conducted by R.Lucente, December 3, 1999 - Oakland, CA.
David Gans photos & foward by Robert Lucente. ©1999. All rights reserved. www.philzone.com and www.2012productions.com

Special thanks to Truth and Fun, Inc. for providing the audio
and to Robert Minkin Photography for providing the Broken Angels photos. For more of R.Minkin's photos, visit his official web site:
http://www.minkindesign.com/photo. So Many Roads photographs property of http://live.dead.net .

This interview may not be republished anywhere in any form -- online or offline -- without the express written consent of Philzone.com. However, we certainly encourage you to link to this Interview from your page.