' A Brother and a Friend '
An Exclusive Interview with
Jimmy Herring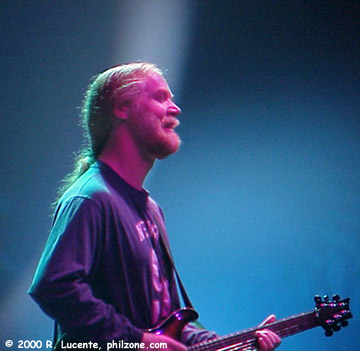 Click on photos for full size in new window.
Conducted June 20, 2000 - New Jersey
by Victor Bradley

Not so long ago, not many outside of Atlanta, Georgia had heard Jimmy Herring play the guitar. In the past six months the incendiary riffage of the talented North Carolinian has made major waves across the country with stints in Phil Lesh & Friends and as the new guitar player in this summer's version of the Allman Brothers Band. Not that he'd been hiding out, mind you.
Among the first to take note of Jimmy's talents were the guitar-heads. A steady buzz has grown since his legendary flights of improvisation soared through incomparable sets as a member of jam band prototypes Col. Bruce Hampton & The Aquarium Rescue Unit. ARU's notoriety as the most inventive band on the early H.O.R.D.E. tour cemented their renown with fans of fellow trekkers, Widespread Panic, Phish and Blues Traveler. As part of the conceptually interesting and musically adroit Jazz Is Dead, Jimmy came to the attention of many Dead Heads who hadn't had the chance to see the ARU in their day. Appearances with Butch Trucks' Frogwings band (which also featured Derek Trucks, John Popper, Marc Quinones and former ARU pals, Oteil and Kofi Burbridge), and guest spots with Gov't Mule and the Allman Brothers among others brought Jimmy's name and reputation to the forefront as one of the most respected guitarists on the rock scene.
If you can catch Jimmy when he's not on the road or if you can make it through the hordes of guitarists trying to sneak a pointer from him after a show, you'll meet one of the true gentlemen in the business.
Victor Bradley went fishin' for Jimmy's thoughts on being a Brother and Friend for this exclusive interview in the midst of the first leg of the Allman Brothers Band's summer tour. He spoke to us from his hotel in New Jersey before heading into the Big Apple to perform with Frogwings at the Jammy Awards on June 22.
---
Jimmy, Victor, and philzone.com would like to dedicate this interview to the loving memory of Mitch Cohen - The Answer Man. He was a true lover of music and one of the most dedicated fans ever to grace this world. Mitch, you will be with us forever! Mitch is responsible for creating JazzIsDead.com and BlueFloyd.com
---
i. ROSE'S DEPARTMENT STORE
Victor Bradley: Tell us about growing up... you live near Atlanta now...
Jimmy Herring: I'm originally from North Carolina, but I moved to Atlanta in '86.
VB: Did you play the guitar when you were really young?
JH: I think I got a guitar when I was about ten but I didn't really start to try and play it for real until I was about fourteen. My Dad sold my motorcycle so I didn't have a choice (laughs).
VB: Do you remember what kind of guitar it was? Was it an acoustic?
JH: No. My grandmother bought me this $40 electric that I wanted at Rose's Department Store. Of course, my mom thought she was crazy 'cause she thought I wouldn't pursue it - she thought it wouldn't be something that would last. But when they saw that I was really interested in it they got me a Fender Bronco, a step under the Mustang. I had that for awhile and a guy that I knew had a Telecaster that he was gonna sell for $120. I begged my Dad, but of course, he wouldn't do it. He thought it was too much money and then my brother, who knew that it was a great deal bought it. Later, my Dad reimbursed him. (Laughs)
VB: Do you remember the first music that perked up your ears as a kid and got you into playing the guitar?
JH: Oh, yeah. That's real easy - The Allman Brothers... and Jimi Hendrix. Those were the two. When I was a little kid, my oldest brother was in high school - I have a brother four years older and one eight years older. He had Santana, King Crimson... He had great taste in music and he's not a musician. My middle brother Joe is a musician and he played Jimi Hendrix all the time. My other brother played Jimi and the Allmans and Santana - he was into the San Francisco sound. He had Grateful Dead stuff but it didn't hit me between the eyes, it was more subtle.
When I was 8 or 9 years old it was mainly Dickey Betts' melodies that I really enjoyed. For years I really couldn't tell the difference between Duane and Dickey, I was just this little kid, I couldn't play the stuff but it made me want to play. Then years later when I started playin', I began to realize that the melodies that stuck in my head and the ones that really stayed with me were things off the Live At Fillmore East album - Dickey's solos, they just burned me, man. I later discovered that my favorite songs were his songs. I didn't know it then. "In Memory Of Elizabeth Reed" off the Fillmore album - that is one that I just wore out. I would just play it over and over again.
Also his solo on "One Way Out" off of Eat A Peach - that's one of the most intense things I've ever heard in my life. The song is great but his solo on there has one of the most amazing guitar tones I've ever heard.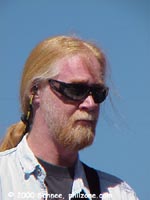 VB: Incredible. When did you start playing in bands? Did you play in high school?
JH: By the time I was in high school I'd played in some bands. I was really into Led Zeppelin, Kiss, Foghat, Aerosmith, all that stuff. I was in bands that covered those songs, but we had a hard time finding a singer that could sing 'em. Actually, there was a guy I was in a band with when I was fourteen, this guy could sing, man. We did a couple of Styx tunes (laughs). At the talent show when I was in eighth grade we played "Helter Skelter" and "Walkin' the Dog". By the time I was a senior, I was getting into the Dregs and John McLaughlin. We played "Dark-Eyed Tango" off of Al DiMeola's Casino album and we were starting to do some more progressive stuff. By my second year out of high school I was full bore into the progressive thing.
VB: Yeah, Jeff Beck?
JH: Exactly. Top of the list. Wired really changed my life and Blow By Blow I loved that, but Wired was the one. I had a lot to play with on that album because I could try to figure out (keyboardist) Jan Hammer's stuff too. Which I couldn't do, you know, but I tried. (Laughs) I got some of it - he was mind-blowin'.
ii. THE COLONEL
VB: When did you join up with Col. Bruce Hampton?
JH: It was '89.
VB: Tell me about the pre-H.O.R.D.E. days with Aquarium Rescue Unit when you guys were first starting out...
JH: When we were at our peak...That was the best that band ever was. By the time H.O.R.D.E. started, it was still a vital thing but we were starting to run on autopilot at that point.
VB: You guys were playing the Southern circuit primarily...
JH: There was a pub in Atlanta called the Little Five Points Pub and it was 99c cover charge and free draft beer or something like that. It was a Monday night thing and all the musicians involved were only there because it was the one night of the week when they could go and play whatever they wanted. I was already in a band with Jeff Sipe (aka Apt. Q258) Oteil and Kofi (Burbridge, Oteil's brother) but we never did a gig. We were rehearsing but we didn't have quite enough material to play a four hour gig. Back then that's all you could get, you had to play the whole night. We had about an hour and a half of music but we couldn't get a gig. So Jeff started playing with Col. Bruce Hampton here and there. He kept talkin' about this crazy guy, this really liberating guy to play with, where there were no boundaries. Then Oteil started playing with him.
Oteil, Jeff and Kofi all lived in the same house and I would go over there and play with them and Jeff said, "Jimmy you oughta come play with Bruce...me and Oteil are doing it. It's crazy, you've gotta come check it out." So I went and for two sets I just sat there and they didn't ask me to come up and play. I was just dying, just about to explode when they finally asked me to play. By the time we got up there the chemistry was just through the roof. Bruce called me the next day and said, "Hey, you wanna be in the band?" You bet and Matt Mundy, a mandolin player, joined the band the day after I did. He brought in a bluegrass element.
We never traveled. We played Athens, Birmingham and Atlanta, that's it. We were still only playing one night a week and every now and then we'd go out of town. We already had a banjo player at the time, Jeff Mosier. There were two guitar players, me and Charlie Williams. You see, Bruce had a really big band. Nobody got paid, it wasn't about money.
VB: You guys were doing tunes like "Sittin' On Top Of The World"...
JH: Right, and we were doing some of Jeff Mosier's original stuff, old bluegrass tunes, old blues tunes, Bobby Bland tunes...so we were deeply rooted in bluegrass, jazz, funk and blues. Those things all became just music to us.
VB: So Bruce was really a catalyst bringing all of you with these disparate elements together...
JH: It was unbelievable, man. I never could fit into a real country band because my style leaned too much towards jazz and rock. If I got into a jazz group I was too country and for a blues group I played too many notes. So I never fit into any "normal" category and then when I got with Bruce, it was exactly what he was looking for. I'd finally found a place I could fit into. He didn't really tell us what to do, he just offered us a palette for it.
He'd say, "I don't care if you play on one string or if you're playing on the floor, but if you are sayin' something, play as long as you want. You don't even need a guitar, just get a broom. As long as you're sayin' something." So needless to say, sometimes we'd play too long and not really say anything but we were trying (laughs) and he offered us that medium.
VB: Great just to have that freedom...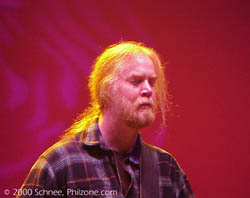 JH: Yeah, and it was my first taste of what having no musical boundaries could be like.
VB: A lot of these bands, sort of following after ARU and the first H.O.R.D.E. bands in the so-called "jam band" scene are really linked by their willingness to go out on a limb and incorporate a lot of different styles and influences - in theory, quite like the Dead before them.
JH: We didn't know much about Grateful Dead at the time. We were listening to Miles Davis and (avant-garde pianist) Cecil Taylor. Sun Ra was the thing we listened to all the time and we listened to old bluegrass stuff and ancient blues stuff like Bukka White, Bill Monroe, Bobby "Blue" Bland, Hank Williams, Coltrane. All their musical philosophy was reflected in our playing.
VB: On those early H.O.R.D.E. tours, you guys really were discovered by a lot of folks for the first time, but you say that ARU had gone past some of your most creative music at that point...
JH: Part of the catalyst for that was the H.O.R.D.E. tour. I might be wrong about this, but the way I remember it, when you go on at 12:30 in the afternoon on a big stage with nobody there it is not very conducive to being creative. We were a club band. We were accustomed to playing late at night and playing in a small space which was a completely different thing. Even if the club was empty, we could still deliver a burnin' set. But then, when we got out on the big stage it just... it was very hard for me. Everything sounded completely different. We made the mistake of being set up very far from each other there while when we played in clubs, we were right on top of each other. We started to adjust but communication was tough.
All of the bands were wonderful to us but all the "powers that be" hated us with a passion - they wanted us off the tour. At some point Widespread Panic and Blues Traveler just said, "Look, if they don't do it, we don't do it."
VB: Well, all of those bands always give you guys props in the press talking about how much they dug watching you play.
JH: Those guys are just class acts, all of 'em - Widespread Panic, Blues Traveler, Phish - all those guys. They helped us tremendously. When we were just playing that little gig at Five Points Pub, some of the Widespread Panic guys wandered in for a beer one night. I guess they'd heard about this crazy band that did all this nutso stuff. They said, "Man, that was cool. Are you guys touring?" We said, "No, we're just coming here one night a week," and they said, "Look, we've got three sold out nights at the Center Stage Theater next week and we weren't going to go with an opener but we'd like for you guys to do it." We did it and then they took us on the road with them. If it wasn't for them we probably never would've left Atlanta. Then Blues Traveler and Phish saw us with Widespread and invited us to tour with them.
VB: ARU released three albums...
JH: The first album was a live album. The second album for Capricorn, Mirrors of Embarrassment was a studio album, and then the third album came up and it was time to do it and they asked us if we could wait a year. They said, "We don't want to lose you guys but our budgets are tight." We hadn't sold them a whole lot of records so it was no big surprise. We appreciated that they wanted to keep us and all, but we couldn't wait a year to record our third album so we left the label and they let us go. By that time, Bruce couldn't take the road anymore so he left. We were playing 280-300 gigs a year. It was absolutely insane. We had this manager that was really pushin' us, and Bruce kept beggin' for time off and the guy just wouldn't budge. Actually, Matt Mundy left before he did. We did a four-piece thing for awhile. It was still burnin' and we almost came to a new creative spot. But when Bruce left, we auditioned a couple of singers and went straight into the studio and did a new album, In A Perfect World. That was on Intersound records.
VB: That was when Kofi joined...
JH: Yeah, on Bruce's last gig, Kofi came out and he stayed. Then we got Paul Henson not long after that and recorded the third album.
VB: Then Jeff split in '95...
JH: Well, Jeff wanted to play more obscure music and when we got Paul Henson, he was a singer. He was not somebody we were trying to "replace" Bruce with. We just wanted to go in a different direction. We wanted to write songs. I was looking forward to writing songs because we had never really done that before. We'd pretty much just played music that was already written. We played tunes like (funky jazz pianist) Les McCann's "Compared to What." We played what we used to refer to as "Bruce's greatest hits." Bruce had been playing these songs for 30 years. Every band he had before us played these songs.
(Note: Bruce Hampton was a member of the Hampton Grease Band who recorded a decidedly non-hit record for Columbia in the late 60s and even played on a bill with the Grateful Dead)
JH: It was just that our timing happened to be right. All the timing just hit to the point where we stayed busy. When Jeff left we wound up going through a revolving drum chair period which really bummed me out. We didn't play a gig for a year.
By this time Oteil was in the Allman Brothers and I was doing Jazz is Dead. Then a record company came to us and we did a record but we had differences with the label and we wouldn't sign their contract. So right now we're in the process of possibly buying that album from the label and releasing it over the Internet. It's a "song" album. There is quite a bit of improvisation on the album but I felt like, we have this singer and we can drag him along behind us, or we can let him front the group like he should be doing. So Oteil wrote a bunch of songs, I wrote three or four songs, Kofi wrote a couple of songs with the singer in mind. It's the best album we did as that type of band but nobody's heard it. It was done over two years ago.
iii: JAZZ IS DEAD
(Note: Impresario Michael Gaiman, who had booked GD and Bobby & The Midnites tour years before, had a dream of legendary jazz drummer and former Midnite, Billy Cobham playing Dead tunes. He called Billy in Switzerland and Jazz Is Dead was born. Recruiting bassist Alphonso Johnson and keyboardist T Lavitz. All they needed was a guitar player...)
VB: T Lavitz is the guy that recommended you for Jazz Is Dead, right? He obviously knew you from when he was with Widespread...
JH: Right. When T. was with Widespread, we were playing a lot of gigs with them. He and I hit it off because I was a tremendous Dregs fan. He even remembered me from being that redheaded kid from North Carolina at every Dregs show. He said, "Man, what are you doing here, North Carolina?" That's what they'd call me because every time they'd play in that state I'd be there.
VB: So when you joined JID you weren't particularly versed in much of the Dead's music. You'd heard it but you didn't really know the intricacies of it so you had to learn a bunch of stuff.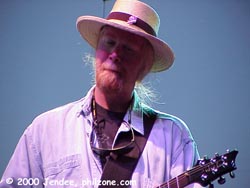 JH: Absolutely. All I knew about them was that I liked their philosophy and I knew that they weren't afraid to fail. They recreated themselves on a nightly basis and I respected that a lot. By the time I got hip to them I'd made a conscious effort not to listen to them too much because everybody on the whole scene I was in looked to the Dead as their main source of inspiration. There's the guys from Phish, Blues Traveler, Widespread, Dave Matthews and the host of other bands - none of them sound like the Dead to me, but they listened to it and it helped them form their style.
So I figured, I want to draw from other forms of inspiration. Maybe the same ones the Dead got their inspiration from. People like Miles Davis - all the fusion stuff had hit me pretty hard and then I started going back and listening to (jazz guitarists) Charlie Christian and Wes Montgomery and all that bluegrass like J.D. Crowe...
VB: Right - the Dead listened to all that stuff - Phil brought in the jazz, Jerry the bluegrass... How did Jazz Is Dead approach the Dead's material? What was their take on how to arrange this stuff?
JH: I always felt that Michael Gaiman's idea was a great one and it was a sincere idea - let's get these jazz musicians and let's reinterpret this music. But, unfortunately, initially it was so expensive to rehearse. When you're not playing gigs, there's no money coming in so we were unable to rehearse enough to do that music justice. But eventually we did do a lot of gigs but in the beginning we only had 18 songs or so. When you hit the road and tour with only 18 songs it's tough. Now, in a lot of bands that would be acceptable...
VB: But not to play in front of Deadheads...
JH: No, not to play in front of Deadheads so that was rough. But the longer the group stayed together I thought the more we started to feel comfortable with the material. The one thing we kept saying was, "Look we don't want to play it the same way the Grateful Dead played it." So I didn't listen to a lot of live tapes to draw inspiration from them - I listened to the records. Michael suggested the material. He really was the one that I thought was the expert in residence to select the material. He would say, "Do what you're doing but check out this other version of this song," and he would play a song for me that I'd learned off the record but that was recorded live four years later or something and it was completely different. So that started to help me.
VB: I thought it was interesting that for a band with such a heavy jazz pedigree, it was odd that JID was really less improvisationally oriented than ARU, Phil and Friends or the Allmans...
JH: I know. I thought the same thing. When it comes to Billy, Alphonso and T. - those guys are largely responsible for the way I play. They influenced me tremendously early on. All three of them in their different situations - Alphonso with Weather Report, Billy with Mahavishnu, T. with the Dregs and all of their solo albums. I was also coming right off of being really Hamp-notized, you know what I mean? After working with Hampton who said, "Okay, you know all of this 'respect' music now so drop that crap and play." That was where he was coming from. He'd rather hear you play garbage than to just regenerate the same thing you've been playing for the past ten years. When I joined Jazz Is Dead, I was trying to behave myself in the beginning and not go too "out" because I thought those guys might think I was insane.
VB: It seemed your role was to play a lot of the vocal lines, the melodies...
JH: Well, that was part of it but when it came time to improvise, it seemed like, well, they weren't influenced by Bruce Hampton and I was... and they thought I was a little bit crazy I think (laughs). But, we really had a ball. Working with Billy Cobham is one of the most amazing experiences I've had - he is such a pro. His approach to the gig was a lot less improvisational. This is just a speculation on my part, but his approach to that gig was probably not wanting to approach the music like other people have. Everybody else had always approached it like an "anything goes" kind of situation and I think Billy, possibly, wanted to approach it more from a groove standpoint.
VB: Ah, showing the structure of the tunes as opposed to the open-ended-ness of it. In an interview when the band first started, he told me that what he always thought was missing in the Dead's music was the backbeat, a strong pulse.
JH: Right, and he was adamant about not wanting to just "cover" the tunes. I felt like he was right and if we were to go out there and space out on E for two hours, people might construe that as, "Aw, they're just a cover band."
VB: After Billy left then Jeff Sipe and Rod Morgenstein came into the band. How did that change the music for you?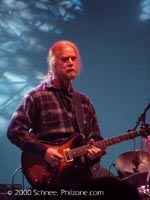 JH: I didn't know Rod personally but I'd been playing with his records (with The Dregs) for years and I felt like I knew him. It was similar to that with Billy but Billy was such an icon. I was a little more subdued playing with him, not because of him but because of my having him up on a pedestal.
VB: Also, you were just learning the tunes. By the time Rod was there you'd been playing them for a couple of years.
JH: True. Then, when Rod came in we were more assertive with our own musical personalities. When Jeff came in, (Note: Rod and Jeff alternated gigs for awhile depending on availability, sometimes both of them together--Jeff was and still is drummer for Leftover Salmon) of course, that was like playing with my best friend. When he came in our chemistry kind of came back into the picture a little bit.
This interview or any photos contained within may not be reprinted
anywhere in any form -- online or offline -- without the express
written consent of Philzone.com.
However, we certainly encourage you to link here.
. .