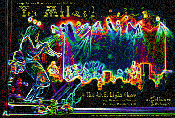 PZ: How did you decide who to bring into Yo Miles!?
HK: Initially, I was thinking of doing it just with guitars without a trumpet because I didn't think there was a trumpet player that could do it or would want to do it. 1972 to 1975 is not usually a particularly popular period with jazz musicians. I had known Wadada Leo Smith for twenty years and I was at a solo concert of his in Oakland where he was playing so great and I said, "Hey, I'm gonna do this project of this Miles stuff"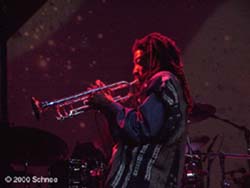 and he says, "Wait a minute – you're gonna do that stuff, the mid 70's stuff?" and I said, "Yeah" and he said, "The mid-seventies stuff from '72–'75?" I said, "Yup." He said, "That's my favorite Miles – that's the most beautiful music he ever did." I said, "I thought nobody except me thought that" and he said, "No, I think so too man." So I asked him if he wanted to play trumpet for it and he said, "Count me in!" and then we just made it happen.
Leo is a monster on trumpet. That guy is 59 years old, he's the head of Afro-American Studies Department at Cal Arts down in Southern California, and he's had this long career – growing up in Mississippi, being in the Army band, moving to Chicago, joining the AACM (the militantly black, Association for the Advancement of Creative Music), and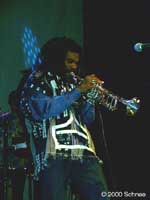 working as a composer and improviser for many years. It's very odd for him to do this kind of thing now. His colleagues haven't gone and done something like this – gone electric all of a sudden when it's not a fashionable time to do it. He's a wise guy – he knows a lot – he's what makes it possible for us up there to do the strong thing especially because he's a master musician. We don't talk a lot about it or work stuff out – the pieces from that time are really just bass lines and tiny little five note themes and ideas which you can mix and stack in different ways and play different tunes on top of each other.
Our great bass player, Michael Manring, learned all the bass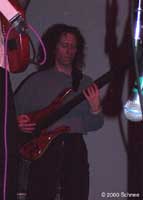 lines from that period so we can do whatever we want. For these first two concerts, we made a setlist of what the bass lines were going to be basically, (and Michael can vary this as much as he wants at any point), but we're hoping we won't even have to do that anymore. If we have the same bass player and drummer for a while, we can just – as Miles did – let it happen as it happens every night and also try to put in more open sections where we just do something completely new that doesn't even have that bass line.
PZ: When did you grab Steve Kimock's attention for the Yo Miles! project?
HK: Steve loves electric Miles Davis stuff and he heard what we did and he really liked it. I said, "We're doing a gig down at the Fillmore – why don't you come and be in the band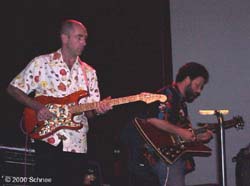 this time" and other guitar player we'd used before couldn't make it so it was cool to have Steve come along. We'll keep doing Yo Miles! with many different musicians and switch up different people. We might do it with Steve again or somebody new – I know we're suppose to do the Chicago Jazz Festival in September and the plan is just two guitar players – just me and Pete Cosey who was the original guitar player in that period of Miles Davis and that will be really exciting if we get to do that. We're not confirmed but I know they've asked so I hope that happens – that'll be fun.
PZ: You did it great justice – that music just needs to be heard.
HK: Yeah, but I don't feel so much like that specifically is the music that needs to be heard. I think that peoples' minds need to be expanded and Miles in that period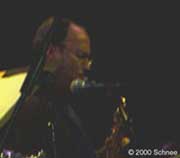 developed a special way of expanding peoples' minds just as Coltrane did in his music earlier in a different way, and nobody's worked on that particular way much since then. You know it's fun to work in that particular way. You can expand somebody's mind with bluegrass, you can expand somebody's mind with anything – any kind of sub-genre or a different approach to music – that's what's important to me – expanding people's minds, and taking them and showing them new things, and asking questions to people. That's what our job is with it.
PZ: How do you guys rehearse for such a thing?
HK: There's no rehearsing. The point of the music is not to do that. Just as in Miles' band, it's a very collaborative thing and everybody brings something to it. It's a very open thing and anything can happen.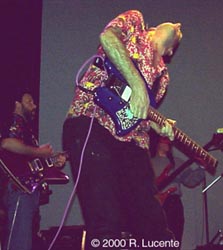 PZ: How often can we expect to see Yo Miles!?
HK: Well, it's an expensive thing to have a band with nine or twelve people and people that are really good players at that. We're all very much into it, but it's not like we can afford to go out on tour or play in clubs or take it to New York and play at the Wetlands or something like that. But we can play at jazz festivals in Europe and America and Japan, in our hometown where we can build a bigger audience and where many of us live – like at the Fillmore twice a year, or Yoshi's for a few nights. We had a very enthusiastic response after this last gig and have had a lot of requests to do some festivals. We discussed how we could make the next Yo Miles! album different – we don't want it to be just like the last one. The guys in the band were really enthusiastic about it. Steve Kimock and Tom Coster [Tom Coster (Yo Miles! keyboardist) and Steve Smith (Yo Miles! drummer) have their own band Vital Information] were talking to me from the car phone on their way in between gigs about it – everyone's really excited.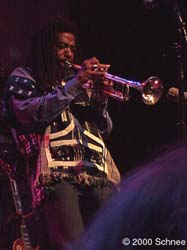 (hear the following in RealAudio)
Leo was talking to me on the phone saying, "We follow the logic of the pieces a lot but we've gotta break that logic up more and just do something crazy all of a sudden, and someone's gotta come in and interrupt someone else because Miles would do that." He would establish the logic of a piece and then he would destroy it (in that period) in a way that you couldn't do in jazz or in fusion. Leo's right – we need to challenge the music. Now we're in touch with it, and we've survived its initial challenges, but now we need to challenge it back.
PZ: The Yo Miles! studio CD that is out – did you take the same approach as you did on-stage?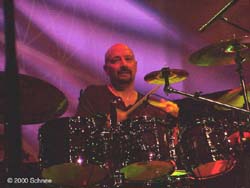 HK: Yeah, we didn't rehearse, we just went in there and did it, but we didn't have as many open areas as we had the other night – like we had the open drums, open organ and drums, and stuff like that.
PZ: I take it you've seen Miles Davis play live?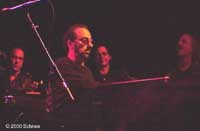 HK: I saw Miles in that mid 70's period 12 or 15 times – I saw him at the Greek Theatre in Berkeley, Keystone's Korner in San Francisco, a lot of times in Boston at Paul's Mall and the Jazz Workshops. I saw that band a lot of times so I have a big personal affection for that period.
PZ: Do you have any other projects you're currently working on?
HK: Well, I always have too many projects. There are six albums I'm mixing now – one with some Japanese musicians, one with a great musician, Mike Keneally (guitar and keyboard player who was with Frank Zappa), one project with Captain Beefheart's old drummer, Drumbo, John French, who I've known for years, Michael Manring and myself that we're working on finishing up now. I just recorded a CD with an amazing guitar player, Tisziji Muñoz. (check out his website at www.tisziji.com) He's kind of a Coltrane guitarist, and we had Marilyn Crispell, Lukas Ligeti and Mark Dresser in the band. So many CDs to mix! I'm behind schedule and I have so many records to finish and I'm not playing too many other live gigs now.
PZ: You've worked on so many albums...
HK: I'm at a point in my musical career where I've made about 160 or 170 different records and I've done a lot of the things that I wanted to do and I'm getting older now. I'm 47 – and it's not that fun going out on the road most of the time. So, I want to keep doing different kinds of new projects and things, so there probably won't be as many live gigs in the future.
PZ: I know this is a tough question, but out of all the albums you've worked on, are there any gems that really stand out?
HK: My favorite things are the records I made with David Lindley in Madagascar and Norway. I'm very proud of those – A World Out Of Time and The Sweet Sunny North (hear samples). There's so many records – that's a tough question to answer. Those are also among the best sellers too. There's people I really enjoy working with. I really like the work I've done with Richard Thompson, and then I really enjoy playing crazy experimental improvisation like I've done with people like Derek Bailey (our duo CD: Wireforks, is another personal favorite). I really enjoy playing psychedelic guitar because I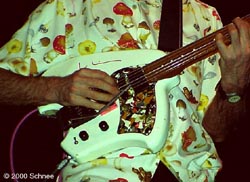 grew up here in San Francisco in the late sixties with psychedelic guitar – listening to Garcia and Cippolina and various other people I liked a lot like Jerry Miller and Moby Grape and the Captain Beefheart band when they would come up from LA. That's part of my heritage so I like to play in that context, but it's difficult to find a context that's economically supported to do that and pleasant places to play. When you're a kid you can do all kinds of things, but now, I don't know, but I still like to do that.
PZ: Is there anyone specifically you'd like to work with that you haven't already?
HK: Well, I'm always working that. I always find the people that are big heroes of mine that I'd like to work with. All the people that I am a fan of, I would dream of working with.
PZ: You've collaborated with Steve Kimock quite often, what's the history behind your relationship?
HK: Many years ago, Mark Margolis was doing a benefit at the Ashkenaz here in Berkeley, and I had not heard Zero or Steve Kimock, although I had read about them in the paper. Mark had asked me to come and play as part of Zero that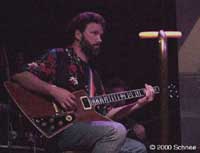 night and I did and Steve and I got along really well because we're both guys who are fascinated by guitar, and that was ten or twelve years ago. Since then, I usually play with him a couple of times every year whether it's been in Zero, or KVHW, or Bob Bralove's band, Second Sight, or gigs of mine, or the Psychedelic Guitar Circus – the band that made a record with Steve and Harvey Mandel and Freddie Roullette – we've played together a lot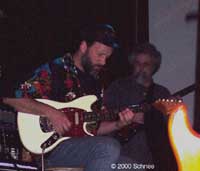 over the years. We're part of the same Bay Area musical community and that's brought us together and we're in the same age group – in our 40's – we're the generation of psychedelic guitar players after the old Summer of Love guys. And we've both played with various members of the Dead over the years. So that makes us colleagues on a couple of different levels.
PZ: You mentioned that you were working on an instructional video with Steve?