Exclusive Interview
with Phish's TREY ANASTASIO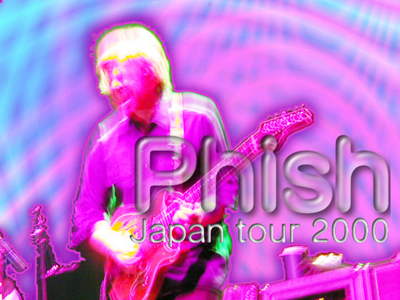 Conducted by Masato Kato May 10, 2000
© 2000 Masato Kato, www.philzone.com
and www.2012productions.com
All photos © 2000 Eri Sakai
All rights reserved.
This interview may not be reprinted anywhere in any form
-- online or offline -- without the express written
consent of Masato Kato and Philzone.com.
However, we certainly encourage you to link here.
I talked to 21st century jamband icon Trey Anastasio on the phone on May 10, a week before the release of the new album Farmhouse and a month before their much anticipated Japan club tour. I was supposed to receive a phone call from Trey at 10 PM (Japan Time), but ever-busy Trey had something else going on and was "missing in action." It was at 11:30 that at last the record company people were able to track him down so he could call me. I was thrilled to talk to him!
In Japan, jambands are not so popular yet, and there are only a few shows a year where taping is allowed, so these shows were a really big deal. To the delight of all us tape-toting, audio-loving music fans in Japan, there was a large taper's section - one of the first like it ever! It was obvious that hundreds of American Phish-heads flew all the way to Japan to see these concerts. There were so many foreign people in the audience that we Japanese Phish fans felt like we went to the USA. Wow - it was quite an incredible experience!
Masato Kato: Let me tell you my opinion of the latest Phish album, Farmhouse. Farmhouse is a great mixture of your musical roots and up to date, very advanced Phish music. Do you agree with me?
Trey Anastasio: Yes. I do agree with you.
MK: Farmhouse has a lot of acoustic instruments. Do you have any difficulty when you play them live on stage?
Trey: Actually, Iím having less difficulty over the past year. Weíre really starting to figure it out and on top of that, it's a direction that Iím very interested in going in. Since weíve finished that album, the only music that Iíve been writing has been acoustic music and the band is now practicing for our upcoming tour and weíre going to include much more acoustic music in that tour.
MK: So you play acoustic guitar also.
Trey: Iíve started playing acoustic guitar a lot in the past year.
MK: I see. Unlike the other records you made before, you maintained complete creative control when you made Farmhouse. Do you have any fear that it will cause problems in the band?
Trey: I actually donít have much fear. I think the band was ready to give me that space because I had always played that role in the past anyway. If you really look back, I wrote a lot of the music and stuff on the old albums. This time they made extra space for me to play that role and I think they were happy to let me do something that was obviously important to me. They felt pretty good about it I think.
MK: So this time you were the leader with Farmhouse. Will Fishman, Page or Mike have the leadership in the future when you make the next albums?
Trey: Well, in band practice Iíve been encouraging everybody to write more music so that we can have songs by each band member. I think that itís important to realize that in a certain way Iíve always had that role. It was more a matter of just accepting the fact that that was the role. On all of the other albums it really wasnít very different. Weíve struggled for so long to question our roles, but in the end it was more a matter of just acceptance. Taking Rift or Billy Breathes, for example, those were very similar experiences. I think what happened was we got to a point where we just decided to not worry about it so much. (laughs) Do you see what I mean?
MK: Yes. Some of the songs have been played for a couple of years. What songs were born in the studio?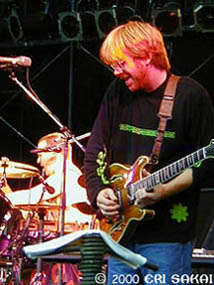 Trey: Well none of them were born in the studio this time. A lot of them were played shortly before we went into the studio. We started trying out most of those songs so that by the time we got to the studio most of the songs were performed on at least one tour.
MK: Some of the songs were two or three years old. I think that "Piper" is a live take.
Trey: Nope itís not!
MK: Itís not?
Trey: The first 5 or 10 seconds of "Piper" thereís a cross-fade. We couldnít get the intro together as good as it was live. Iím talking about the very quiet stuff in the beginning. We edited a bit of a live take but as soon as those 10 seconds are up itís completely live in the studio. We played it all in the barn.
MK: As far as the latest album I like the contrast between the laid back acoustic songs and the live and heavy music. Do you like it too?
Trey: I like it very much. I get bored if there isnít variety. To me itís like a really good piece of classical music. Itís been a musical technique for hundreds of years and I think sometimes bands are a little narrow-minded and only decide to play one thing. If you listened to the Beatles White Album youíve got "Helter Skelter" and "Blackbird" on the same album.
MK: What composer do you listen to?
Trey: Right now I listen to Ravel almost daily. Iím a little obsessed with Ravel right now. (laughs)
MK: Would it be fair to say that Ravel had an influence on the Farmhouse album?

Trey: Iíd say yes to that, but itís really going to have an influence on the next album. (laughs) It probably had mostly an influence on a tune like "The Inlaw Josie Wales" or the end of "Dirt" where thereís a little bit moreÖ.thereís a piece of his music thatís called "Le Tombeau de Couperin" and that kind of cycling, well, itís just one of my favorite pieces of music ever. Iíd love to write music like that. Itíll never be that good (laughs) Ė but sort of like that. (laughs)
MK: (laughs) I see. Some of my friends went to Florida last December to see the New Yearís Eve 2000 Show. Whose idea was it to play for 8 hours?
Trey: Itís something that the four of us have talked about for years. We use to talk about doing a 35 hour long gig. (laughter) That never worked. The eight hour gig was fantastic and Iíd love to do it again. It was an incredible experience to see the sunrise with all of those people!
MK: A friend of mine said you stayed up all night long without going to the bathroom.
Trey: (Laughs) No, I went to the bathroom. We had a port-o-lid on stage.
MK: On stage? So people can see it?
Trey: (laughter) No. We kept it behind the drums. We like to keep that kind of thing private. (laughs)
MK: How did you stay so energetic during the show?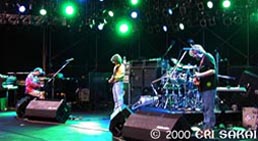 Trey: Well, at one point we had some hors díoeuvres on stage during the show. (laughs) I think that the thing about it was that there was so much energy coming from the people. You know there were 70,000 or 80,000 people that stayed up all night for the show and when you have that many people keyed up for us, it was easy. Surprisingly, it was one of the easiest and most incredible nights of my life. You know the music, the dancing, and the vibe - it just kept getting better and better! At five oíclock in the morning it just started to get really good!
MK: One of my taper friends sent me a copy of the showÖ
Trey: Did you hear "Piper"? One of my favorite parts of the show was when we played that song. Right around there it started to get incredibly good for me and that was at five in the morning!
MK: Wow, that was great! At what time did you play "After Midnight?"
Trey: I think we played it before midnight and then we played it again after midnight. (laughter)
MK: (laughs) I see! A lot of tapers were there and they tried very hard to capture the whole concert without any cuts in their tapes but most of them failed. What would you say about that?
Trey: Well, Murphyís Law would say the moment that their tapes stopped would probably be the greatest moment of the whole night. (laughter) We shouldíve been selling blank tapes - we couldíve made some extra money! (laughs)
MK: Thatís a great idea! Please consider it when you come to Japan! (laughs)
Trey: We could make more money selling blank tapes than we do selling our albums. (laughter)
MK: Did you have a definitive setlist before the New Yearís show or was it spontaneous?
Trey: No Ė it was completely spontaneous. There was no setlist.
MK: Is that the case for every concert Ė a spontaneous show?
Trey: Thatís been the case for the past few years. We used to have setlists and we might have them again. I donít know. We didnít that night though.
MK: For Halloween youíve played some other artistsí classic Rock ní Roll albums such as: The Whoís Quadrophenia, The Beatlesí The White Album, and Pink Floydís Darkside of the Moon. How do you choose which albums youíll cover and play?
Trey: Well, the first two years we let the fans vote and they voted for The White Album and Quadrophenia. The second two years we chose the Talking Heads' album Remain in Light and The Velvet Undergroundís Loaded which are just two of our favorite albums. These are albums that I listen to incessantly.
MK: I see. When I listen to the Farmhouse album I think it would be great for you to play some of Creedence Clearwater Revivalís album Willy & The Poor Boys.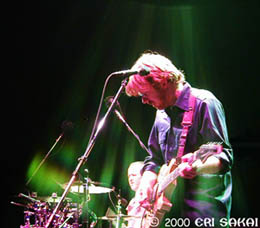 Trey: Oh I love that album. Itís one of the greatest albums ever. Weíll think about it. (laughs)
MK: If youíd like you can play it in Japan next month! (laughs) What made you play the Fuji Rock Festival last year?
Trey: Well weíve wanted to play Japan for many years Ė you know, itís a long way and the opportunity never arose until we were asked to play the Fuji Rock Festival. We took the opportunity and we canít wait to go back for this tour. We had to choose between a few different possible tours because thereís only so many months in the year and [playing in] Japan is something that weíre very excited about. The response we got was great and weíve met so many cool people. We had a great time and we canít wait to come back.
MK: John Fishman came to Japan two years ago before you came here. Did he tell you anything specific about Japan?
Trey: Oh he definitely encouraged us to go after having visited. He met so many people, like I said, and he had such a great experience over there that he was telling us to drop everything and go to Japan. (laughs)
MK: Is playing in Japan or Europe any different from playing in America?
Trey: Well, playing in Japan is very, very different from playing in Europe.
MK: How is it different?
Trey: The response from the fans in Japan isÖ.
MK: Övery quiet?
Trey: Well, yes, you can tell the Japanese fans are listening very intently and it was really exciting for us. Itís always exciting for us to play in front to a crowd of people that are involved in that way. Europe is very different from Japan Ė itís night and day. (laughs) I donít know how else to put it. We really enjoyed playing in Japan. Weíre not going back to Europe this summer. (laughs)
MK: I see. You like to play with other musicians outside of Phish. How was the concert with Stewart Copeland and the bassist from Primus, Les Claypool?
Trey: Oh it was great! We wrote an entire nightís worth of original material and it was incredible to play with both of them. The fact that I was able to play with Stewart Copeland was just an honor. Heís just such a good drummer. Heís really one of the greatest rock drummers ever in my opinion.
MK: How about Les Claypool from Primus?
Trey: Oh that goes without saying too. The two of them together was just a storm of energy.
MK: Will you release an album with them?
Trey: Well, I just was talking to them and weíve talked about it. Weíd like to but the biggest problem right now is time. Itís just not a real great time for me to start another band. (laughs) Do you know what I mean? (laughs)
MK: Did you call them and ask them to play with you or did they call you?
Trey: Well they called me. Les called me and I asked him to ask Stewart Copeland. He asked me if there was anyone that I wanted to play with and I said Stewart Copeland. He called Stewart and Stewart said that he wanted to do it. We actually played in my barn where we recorded Farmhouse and we really hit it off. There was just this chemistry and we just decided to do the show.
MK: Is it very easy for you to play with outside musicians?
Trey: I usually donít have much trouble and I enjoy it so much. I always feel like it helps Phish. In the back of my mind, usually when I do shows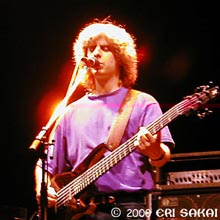 with other musicians, and I do them fairly often, I feel like my intention is always to make Phish a better band. So thatís why itís a little odd when we start talking about doing an album with Stewart and Les. You know, I have a band that I love being in. I could never ask for anything more from a band than I get from Phish. So when I do these projects, to me, a lot of it is a learning experience and I always want to bring what I learned back to Phish and hopefully make Phish a better band. Phish, other than my family, those guys are the center of my universe. Thatís always the way I look at it.
MK: Do you think itís difficult for anybody outside of Phish to jam with you guys?
Trey: (laughs) Oh, I think itís pretty easy to jam with Phish. Weíve had many, many different musicians play with us over the years.
MK: Who?
Trey: Oh, Alison Krauss, Neil Young a couple of times, umm - horn players, string players Ė we always invite people to come up onstage. Iíd like to think that weíre a fairly easy band to jam with because hopefully thereís a level of respect and also weíre fairly competent in lots of different styles of music. If somebody comes up to play with us, we can usually do a good job backing them up. (laughs)
MK: Who would you like to play with in the near future?
Trey: Oh Ė Eric Clapton! (laughs) Thatís who I want to play with.
MK: Did you hear that Eric Clapton had played with Santana in Japan this past month?
Trey: No, I didnít hear about that. You know Santana has played with Phish.
MK: Oh yesÖwas it in Europe?
Trey: Yes in Europe, and we also played with him in the States in Vermont. We played with him and then he played with us. He is a wonderful man Ė heís an incredible guy. If you talk with Eric Clapton tell him that he has to play with Phish. (laughter)
MK: Yes! Thatís a great idea. I heard a rumor that Phish will stop touring and take some time off Ė but here you are on tour. Can you explain that?
Trey: Yeah, you know what happens, at the end of our last tour I wanted to take some rest and then I havenít been with those guys since New Yearís Eve Ė so now I just want to play with Phish. You see, thatís the reason that I like to play with other bands. In between our last Phish tour and this Phish tour I got together with Stewart and Les, wrote all of this material, performed, got to play with these people and by the time that that was over all I wanted to do is play with Phish again. So right now on the wake of this Japanese tour I am dying to play with Phish. I canít wait. I think all four of us are really excited to play together. Weíve been practicing and are ready to go. (laughs)
MK: You are always touring arduously. It reminds me of the Grateful Dead. Do you agree?
Trey: Oh yeah! Iíd say yes!
MK: You played with Phil Lesh in April of last year. Did you call Phil or did he call you?
Trey: I got a phone call from Phil.
MK: What was it like?
Trey: It was great! I was just with him two weeks ago. I did an interview with him for Revolver magazine Ė the two of us. It was incredible Ė not just to play with him but to talk to him. We spent a week together rehearsing.
MK: Only a week?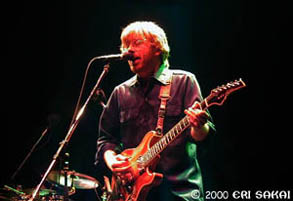 Trey: Yeah, if even that - it mightíve been four days or something like that. But it was every day and we got to sit and drink coffee and talk. Heís an incredible guy and obviously heís got such an amazing history as a musician and just as a person that it was great for me Ė that was my favorite part Ė just the rehearsals Ė because, like I said, we would just sit and talk. I learned so much about music and living Ė you know, and just about being a good human being. You know, he has a lot of integrity.
MK: Oh, I see. Did playing with Phil Lesh have any influence on the Farmhouse album?
Trey: Iíd say yes to that but you know everything that you do influences an album. I think it had a big influence on me in the same way that playing with Stewart Copeland or playing with Santana had an influence on me. You know, thatís how a young musician learns Ė by playing with older musicians who are more experienced. And every time I get the opportunity to do that, regardless of what style of music they play, if Iím lucky enough to play with an older musician, I try to take in as much as I can. So playing with Phil, like I said, I just kind of sat there and listened to him talk and listened to him play and tried to let him influence me as much as I could. (laughs)
MK: Will there be any official release from the Phil and Friends shows from April 1999?
Trey: Not that I know of. I mean people were talking about it, but at this time there are no plans.
MK: I see. Letís talk about the upcoming Japan tour. What would you like to do in Japan aside from the upcoming concerts?
Trey: I would like to see a lot more of the country than I did the last time. We were not there very long. I only managed to have one afternoon that I could travel away from the Fuji festival and we went to a hot spring. The country was beautiful. Other than that we were only there for about three days or something like that. So Iím really hoping to have a lot more time to travel. We walked around Tokyo last time, but Iíd also like to see some of the other cities rather than just flying into Tokyo and flying out.
MK: So you went to the hot springs last year and a friend of mine met you there. He was naked and so were you! (laughter)
Trey: Yeah, I remember that. We were both naked! (laughter)
MK: (laughing) That friend of mine was very surprised!
Trey: Yeah, everybody get naked! (laughter)
MK: Yeah the hot springs - thatís a great experience!
Trey: Maybe next time when I come back we can meet clothed. (laughs)
MK: I heard a rumor that you want to play three sets for the Sunday afternoon June 11th show. Is it true?
Trey: I canít verify what weíll be doing on June 11th. If they want us to keep playing, then weíll keep playing. Weíre always ready to keep playing.
MK: A friend of mine would like to know if youíll eat raw fish this year?
Trey: I did last time. I ate a lot of raw fish and Iím ready to eat more! (laughter)
MK: Do you like sushi?
Trey: I do. I love sushi. That was one thing that we got to do - our promoter brought us to a great sushi restaurant in Tokyo and we had a wonderful meal. Like I said before, we were only there for three days so this time weíll have a little more time to explore.
MK: You allow people to tape your live shows. Does circulating tapes have any influence on your live music?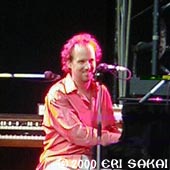 Trey: Definitely Ė a huge influence. People listen to the tapes and we know that we can continue to play a lot of new music. On this next tour weíll be playing a couple of songs that are brand new and people will listen to the tapes and become familiar with the new material. Itís a big help in my eyes.
MK: Robert Fripp from King Crimson is completely against taping concerts. He said, "Being taped by a member in the audience is like seeing his girlfriend being raped right in front of him." Have you ever felt the same way?
Trey: (laughs) No never! In fact, I think that being taped is like making love to every girl in the entire audience. (laughter)
MK: Oh (laughs) I see. I see! All right!
Trey: Itís like all of them taking me home at the end of the show simultaneously.
MK: Please do me a favor and leave a message for all of the Japanese Phish fans.
Trey: Right now? OkÖ LETíS GET READY TO RUMBLE! (laughs)
MK: Weíre ready to rumble Ė at least I am ready to rumble already! I will go to as many concerts as possible with lots of heavy recording equipment Ė ready to record you! (laughs)
Trey: Great! I canít wait for you all to record me - after my last comment about what itís like being recorded Ė I say all of you get out there and start recording me! (laughter)
MK: Okay thatís all. Thank you and have a nice day. Goodbye!
Trey: Okay, thanks! Weíll see you when we get there!
For more info on Trey & Phish, visit their official website - Phish.com
Upcoming Phish Show Dates Here

There's also much more info, sounds, photos, links and more
available at a bunch of fan sites:
Phish.net
Andy Gadiel's Phish Site
Phans.com
Phish Phactory

Phil & Phish Audio from 4/99 & 9/17/99 @ philzone.com
Sugarmegs.com has more audio too
Also see PhishCast, PhishPhiles, PhishingPole, and Nugs.net
Phone Interview Conducted by Masato Kato May 10, 2000
Interview produced by Philzone.com and 2012 Productions.
© 2000 Masato Kato, www.philzone.com and www.2012productions.com.
All rights reserved.
All photos © 2000 Eri Sakai
This interview may not be reprinted anywhere in any form - online or offline -
without the express written consent of Masato Kato and Philzone.com.
However, we certainly encourage you to link here.