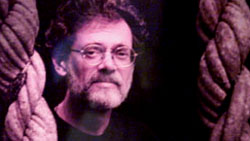 . . > > Countdown to 2012 < < . .
> > ~ ~ - - < < ~ ~ - - > > )) (( < < - - ~ ~ - - > > )) (( <
Join Philzone.com and 2012 Productions as we celebrate the one year anniversary of 'Countdown to 2012 - Celebrating the Life and Logos of Terence McKenna'. On December 15, 2000, in San Francisco, the tribe gathered for a memorial ceremony for Terence McKenna and to celebrate a new commitment to the evolving group mind, commUNITY, love and expression.The event featured 2 rooms of art, multimedia and music, including: performance by Lost at Last with a very special guest appearance by PHIL LESH, eulogy readings, invocation and decorations by many friends and loved ones of Terence's, multimedia presentations by visual artists Robert Venosa and Martina Hoffman, mind expanding grooves of DJ FANOE and DJ JONAS, masterful visual 'Gel-o-tronics' by Vince D'Onofrio, and other blissful multimedia by Scott Davies, and the debute performance of Tinsel Tilde (joined by friends Daniel Paul and Priyo of Lost at Last). Proceeds from the event went to help provide for expenses incurred during Terence's illness.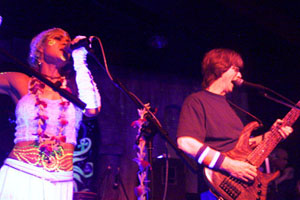 Although Dennis McKenna (Terence's brother) could not attend, he sent these words along and helped sum up what we were all feeling: "This gathering is an affirmation of HOPE, and a statement that however dark things may seem in these times, we have the faith and belief that the future will be more marvelous than we can even begin to imagine... Until that moment, we must somehow keep on keeping on...When the countdown finally gets down to the end and we make the COLLECTIVE crossing, in whatever form that takes, we will find Terence waiting for us there, bemused smile on his face as always, saying something like 'Well, I told you it was gonna happen: what kept you?'...This gathering and celebration is a message to the world that we are up to the task ..Go forth, celebrate the future, life, ideas and hope: be as good as you can be to each other, and know that Terence is with us now, and will be with us at the ESCHATON, whenever and whatever that is... "
- - ~ ~> > - -
x )( < < ~ ~ - - < < ~ ~ - - > > )( x
- - ~ ~> > - -
There was a new sense of cummUNITY and magic felt by all present at the event. We were especially treated when Phil Lesh joined Lost at Last for a most appropriate version of Lost at Last's jam 'PEYOTE', followed by OTHER ONE, DARK STAR, and FRANKLIN's TOWER. To cap it off, Phil read Robert Hunter's 'Words for Terence' written exclusively for the event.
> > ~ ~ - - < < ~ ~ - - > > )) (( < < - - ~ ~ - - > > )) (( <
Please stay tuned for more info on
2012 Productions' next 'Countdown to 2012' event.
Our 10 year kickoff, in 2002, is coming soon to a coast near you!
- - ~ ~> > - -

- - ~ ~> > - -
- - ~ ~> > - -
- - ~ ~> > - -
- - ~ ~> > - -