ZONE OUT
with the
ROLLING RIDER
< < ~ ~ - - > > x )( < < ~ ~ - - < < ~ ~ - - > >
)( x x ((< < - - ~ ~ - - > >)) x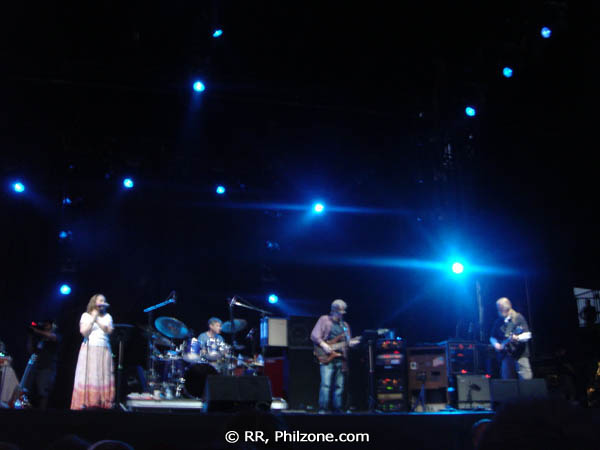 Vegoose!
Las Vegas, NV
10.29.05
'Got my chips cashed in'
_____________________________________________________________
One Set: 'Masquerade began when nightfall finally woke'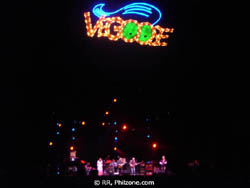 Not that a musician of his stature requires pity, and having opened for the boys at Sam Boyd Silver Bowl in 1995 as his baptism, I still had to chuckle when I overheard a Deadhead talking about Dave Matthews headlining after Phil and Friends: 'Man, I feel bad for that guy! He must have been pacing around backstage, thinking, how am I supposed to go onstage after THAT band?!'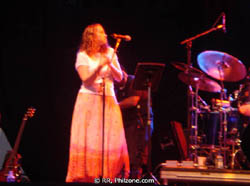 I've often had a similar feeling about Grateful Dead sit-ins, and the rotation of new phriends like Joan Osbourne Phil likes to employ. What must their reaction be to the Speed-of-Light Orchestra? Well this time Ms. Osbourne was no novice, but belted out PLAYING IN THE BAND like a crafty veteran added to the lineup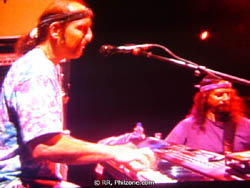 in a key spot late in the season.
As always, Rob Barraco was ebullient at the chance to show his chops at TRUCKIN', and with the arrows of neon and flashing marquees out on Main Street, the Vista Cruiser was humming right out of the blocks. THE ELEVEN was another page torn out of the '68 Carousel Ballroom, and Phil confirmed that cyclic notion, bellowing 'Now is the test of the boomerang/ tossed in the night of redeeming'
Being asked to sing RUBIN AND CERISE for the boys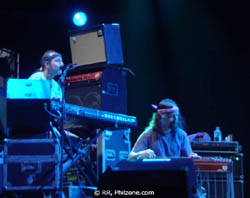 is a daunting task. It'd be like asking someone ELSE to paint the Sistine Chapel, or hit the game-winning jump-shot for the Chicago Bulls. Nevertheless, we were happy to hear someone sing that haunting melody as waves
against the bandstand dancers broke. Joan followed it up with a tip of the cap to the man she replaced, Ryan Adams, with a rendition of his MAGNOLIA MOUNTAIN.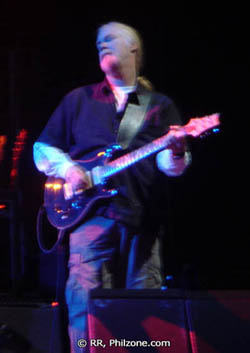 Looking for familiar faces in an empty window pane, for a fleeting moment it almost felt dirty hearing the sacred hymn of UNBROKEN CHAIN in front of such a large,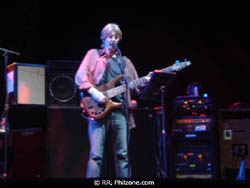 festival-style crowd of eclectic outsiders. That feeling quickly transformed into overwhelming pride as Phil masterfully tended to his flagship song: 'November and more, as I wait for the score/ they're telling me forgiveness is the key to every door'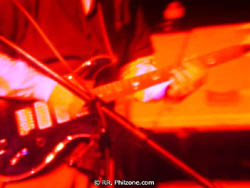 Special friend and the hardest working man in Jamland, Warren Haynes took the stage and offered a driving SHAKEDOWN STREET paired with the
Beatles' HIDE YOUR LOVE AWAY. Warren and Joan teamed up for a deliberate SUGAREE, but it was Barry Sless and Jimmy Herring's stringed conversation that was the signature on the tune.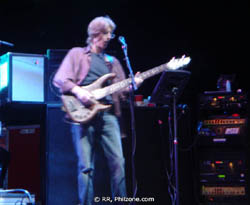 A heaven-sent HELP ON THE WAY> SLIPKNOT! led us to the ultimate Vegas denouement and a notion that crossed everyone's mind in Sin City: CASEY JONES. Not even expecting an encore at a one-set event, I was wandering toward the exit when I heard Phil's heartfelt DONOR RAP and urge to notify a family member the importance of being an organ donor. With that, Phil sprinkled wildflower seed on the sand and stone of the Nevada desert with FRANKLIN'S TOWER and the liquid reprise of PLAYING IN THE BAND.
Vegoose was a dreamscape of garish lights and disguises with phan phavorites like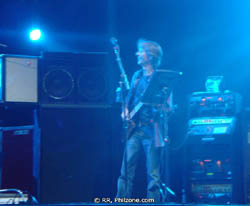 Panic, Jack Johnson, Spearhead, and Trey as abundant as clustered stars over the open plains. As always, though, it was our sense of community that struck me. If you were lucky enough to be inside for the three-set morning marathon at the Hard Rock Joint consider yourself lucky, but if not, take solace in something much more crucial: the fact that you are a vital thread within our tightly-woven community.
See you this Fall,
The Rolling Rider
< < ~ ~ - - > > x )( < < ~ ~ - - < < ~ ~ - - > > )( x x ((< < - - ~ ~ - - > >)) x

Bimbos - San Franciso, CA - 10.27.05

~ > > ~ ~ - - < < ~ ~ - - > > )) (( < < - - ~ ~ - - > > )) (( < < - - ~ ~> >