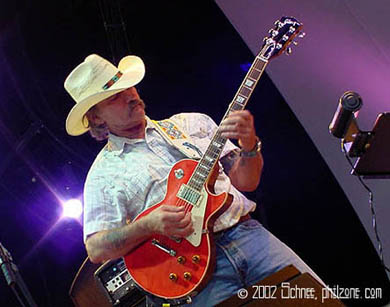 Dickey Betts is one of the musical architects of the jamband music genre. Betts' inventive guitar work was the hallmark of the Allman Brothers Band for 30 years. Throughout that time, Dickey's emotive guitar playing has inspired legions of fans and fellow guitarists. Since his departure from ABB, Dickey has continued to push the musical envelope most recently recording an all-acoustic album entitled The Collectors #1. Reuniting with long-time guitar foil "Dangerous" Dan Toler, Dickey Betts & Great Southern have recorded a masterful release incorporating traditional Appalachian music, Celtic, Western Swing, and down-home blues, each displaying the multi-faceted guitar work for which Betts is known. This past summer Dickey Betts & Great Southern opened several shows with Phil Lesh & Friends. With each performance Betts gave a virtual guitar lesson as he and his bandmates in Great Southern touched on many of Betts' finest musical moments. So naturally we wanted to touch base with Dickey on some of his past musical glories as well as what he has been up to recently… and Dickey was more than happy to oblige.
Philzone.com: It was really something seeing you play Blue Sky in Atlanta, Georgia [7.27.02] with Phil Lesh & Friends last month…
Dickey Betts: Wasn't that great?! Phil asked me to keep that out of my set and I was really flattered that he wanted me to play that with him.
Yeah, that was great! Between you playing with Phil this Summer [7.26, 27, 28.02] and last Fall at the Beacon in NYC [12.1.01], how did it feel to be jamming with Phil again after all these years?
You know what, there were so many rushes. We used to do that all the time but people tend to go different ways for one reason or another. I didn't get a chance to play with those guys for a long time. I went to go see Phil last year at the Beacon and as a matter of fact, I didn't go there to sit in, but he asked me to play that night. (laughs)
How could he resist! What was your relationship like with members of the Dead back in the early seventies?
Bill Kreutzmann and I chatted a lot when we used to do shows together. Jerry and I of course talked more than I did with the other guys I guess because we're both guitar players. Hell, all we talked about was guitars. Then of course Phil… but Bob, I always felt [that he] was a friend of mine, but Bob don't talk all that much. (laughs)
(laughs) He listens though…
Yeah, he's kind of Dylan-ish that way. (laughs)
You and Jerry must've had quite an influence on each other.
Click Here To Listen To The Following In RealAudio: You know he would kind of laugh at me... Even though we were just about the same age, they got started playing about eight years before we did. So, hell, I was studying those guys - what they were doin' - before I ever made a record. So even though we were the same age, I was kinda of tippin' my hat to Jerry all the time and he'd get a kick out of that. [He'd say,] "You know, you guys caught up." (laughs) We'd talk about our different... the way we went about playin' the guitar and things like that a lot. I can't remember ever seeing Jerry and talkin' with him that he didn't have a guitar in his hands. When I think of talking to Jerry backstage, it was always while he was playin', then he'd stop for a minute and talk, then he'd start playin', talk... you know, that's just the way he was. That's the way I remember him anyway.
You guys must have had a couple of jam sessions behind the scenes.
Well sure, sitting on the stairs at the Fillmore East, Watkins Glen, in trailers, and just about all over the place. We played quite a few shows together back then in the '70's.
The first time you guys shared a bill was at the Fillmore East on February 11th, 1970. Do you have any specific stand-out moments playing with the Dead?
Well, Watkins Glen [July 28th, 1973] stands out no matter if you're talking about the Dead or just the most outstanding concert you've ever played or the most people you ever saw – that's always the one – The Band, The Dead and us.
You all played for so many hours…
Well, the day of the sound check was really a concert in and of itself because the people had been there a week already. It was just such an amazing experience. I think at the time it was considered the biggest crowd drawn in entertainment. There were about 600,000 people there.
What was it like behind the scenes at some of those shows with the Dead?
Well, I dunno… (laughs) You know, we partied a LOT! (laughs) You had to watch your drinks around the Dead because you know they were the Merry Pranksters. (laughter)
Have you jammed with anyone else that was really inspirational?
Well a milestone for me was when I sat in with BB King at the Fillmore West. Just when I had thought that I had reached the pinnacle of everything I would ever do, I got to play with him. You know, we had made maybe one record at that point so that was really something.
Do you remember what you played when you sat in with him?
Oh man, we played for about an hour together. I think it was me, Carlos Santana, Buddy Guy and B. Actually, it was after the show was over and just a bunch of us went out and kept playing. It was after the formalities were over and, you know, that place could stay open till daylight so a bunch of us just went out and played.
It seems that The Allmans and the Dead were Bill Graham's favorites… What was he like?
Click Here To Listen To The Following In RealAudio: Well, I think that Santana, the Dead and us... we were scared to death of Bill Graham when we first started playin' the Fillmore East cuz if you're not in tune, if you're not ready when the curtains opened, Bill would jump all over you after the show. And we were never in tune, we were never ready as hard as we'd try and he just loved us. He never jumped at us or snapped at us. You know, Bill, he could be very explosive. Over the years, he was really one of my heroes and one of my best friends in music, as far as musical relationships. We knew he was a square shooter. I remember we played the Pacific Shore and our manager warned us and said, "Well Bill wants a kickback because he didn't get as many people as he thought" and it was a giant crowd. He said, "So, Bill's probably gonna come round to your bus and talk to you about it." So, he came to my bus and hell, we talked for an hour and he was telling stories and I was telling stories. He never mentioned anything about any business (laughs). I said, "Okay I'll see ya later." So the manager came to me and said, "Well, what do you think?" I said, "Whatever he wants to do." (laughter) He said, "Well, what'd he say?" I said, "Well, he never brought it up!" (laughter)
You guys played at the closing of the Fillmore East [July, 1971]. That must have been a sad day.. the end of an era almost...
Well, it was sad really. I managed to get a hold of one of those bricks when they closed it. I had all the guys in my band sign it and it's in my music room on my piano to this day.    
Cool! I'm sure you've seen Cameron Crowe's movie Almost Famous. You know he said he loosely based that on his experience with the Allman's as well as some other bands?
Well, yes…three bands. I think us, Led Zepplin and maybe The Who. I almost feel vain talking about it, but some of those story lines are things that actually happened between myself and Cameron. You know, I talked the band into letting him travel with us. We were kind of gun-shy about interviewers traveling with us and getting on the inside because they can really tell things that shouldn't be told. Anyway, that part of story was definitely about us. I'm not sure if it was in there, but Gregg [Allman] took his tapes and wasn't going to give them back to him but I stole them back for Cameron. (laughs) A lot of that story was based on things that I actually remember happening. Then a lot of it was from other bands too. I just thought it was a great rock n' roll movie.
Absolutely! You know one of the things about the Allman's and the Dead was your ability to create a live jam in the improv mode and I think that's been passed down to a lot of jam bands today…
I think that's the school, yeah.
You were definitely one of the biggest architects of that. What younger bands do you think exemplify that?
Well, we played a couple of shows with moe. not too long ago and they were showing all of this great reverence to me and I really didn't know all that much about their band. This was before either one of us went on stage. I went out to listen to them play and I said to myself, "Oh, I see where they're coming from now." They went from everything from The Dead to The Allman Brothers. I sat in with them and played and felt like I was right at home. The thing is, they have arrangements and written materials within their jams. Some of the jambands are strictly just jam – total improv from beginning to end. There are a lot of guys out there that I enjoy watching. Dave Matthews is not quite what we're talking about, but in a way they are. I love what they're doing.
What do you think of how Phil and Friends are doing it these days?
Click Here To Listen To The Following In RealAudio: Yeah, you know Phil's not trying to recreate the Grateful Dead with those guys that he's got. The influence and what he gave to the Dead and what he learned from the Grateful Dead is obviously there. And the way he goes about it is... it's much more efficient, if you know what I mean?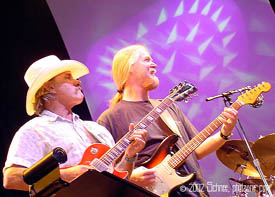 He doesn't wait for things to happen – he kinda makes things happen. And he gets away with it in a real smooth, kind of honest way without looking like he's rushing through stuff. I had kind of an epiphany when I put my [new] band together since the Allman Brother's split up. I went to see Phil and I said, "Geez, this is what I'm supposed to be doing and I'm not quite doing it." I'm fresh out of 30 years with The Allman Brothers and haven't found my feet yet. And boy, when I heard Phil play, I said, "I see what I'm supposed to be doing now." So he was a great help in that way. And then watching Warren [Haynes] and Jimmy Herring work together was real enlightening too. So it helped my band a lot.
So you feel that you changed your approach with your band [Great Southern] a bit after seeing Phil and Friends play?
Yeah, it really kind of put me on track. After seeing Phil last Fall, I was thinking that this is what I want to do and I'm not really quite doing it like this. Then when we opened for Phil this Summer, my entire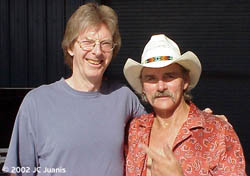 band went through that. They said, "Oh, this is what Dickey is trying to tell us." (laughs) It's not really that they're playing different notes or anything like that, it's just the way they're delivering them together. It's more like in waves then delivering them straight forward. I don't know if you can follow what it is I'm talking about with that.
Well, it's hard to put into words really. I do understand – the people who listen to Phil and Friends' music will certainly understand.
What I try to get across to my guys is to not make the band chase you when you're playing a solo. I was explaining to them that in Phil's band, he doesn't even like to hear the word solo. (laughs) In our band when you're playing a solo, don't make the rest of us chase you. We all kind of just take turns with the group in mind throughout – sometimes with my band, three of us will be sort of soloing together but we try to be conscious of each other. If you think about it, Benny Goodman was doing that 50 years ago.
....


Help Support
Philzone.com
Buy The Offical
T-Shirt Now!


Show Your Love!
Vote For
Philzone.com
For Phan Site
of the Year
It Only Takes A Minute
PLEASE VOTE BEFORE 9.15
Please Tell Your Phriends!
*LISTEN*
WHILE YOU READ:
or Save Download
PC: right-click
Mac: option-click

Dickey with P&F
12.1.01: Mtn. Jam>
Bid U Goodnight
{Download}
7.27.02: Blue Sky
{Download}
7.28.02: Smokestack
Lightning>
{Download}
Goin' Down The
Road Feelin' Bad
{Download}

Dickey & Great
Southern Live 5.9.02
Acoustic:
Georgia on a Fast Train
{Download}
Seven Turns
{Download}
Electric:
Lets Get Together
{Download}
Southbound
{Download}

VIDEO
9.23.70: Dreams
More Vids Here
DICKEY'S
OFFICIAL WEBSITE:
DICKEYBETTS.COM
GREAT SOUTHERN
BAND BIOGRAPHIES
THE COLLECTORS #1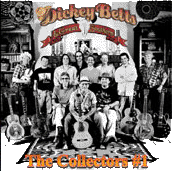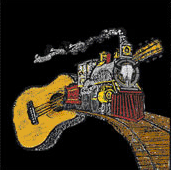 CLICK HERE FOR
MORE INFO OR
TO BUY THE CD


LET'S GET TOGETHER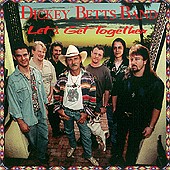 CLICK HERE FOR
MORE INFO, SAMPLES,
OR TO BUY THE CD
DICKEY BETTS
& GREAT SOUTHERN
TOUR DATES
SEPTEMBER 20
TRAIL OF TEARS
MADISON AQUATIC PARK
HUNTSVILLE, AL

SEPTEMBER 21**
MESKER AMPHITHEATRE
EVANSVILLE, IL

SEPTEMBER 26**
CUMBERLAND CO. COLISEUM
FAYETTEVILLE, NC

SEPTEMBER 28**
MEMORIAL AUDITORIUM
WINSTON-SALEM, NC

**WITH LYNYRD SKYNYRD

OCTOBER 10#
THE GROVE
ANAHEIM, CA

OCTOBER 11#
RADISSON
SACRAMENTO, CA

OCTOBER 12#
POZO SALOON
SANTA MARGARITA, CA

OCTOBER 13#
HUMPHRIES
SAN DIEGO, CA

#WITH POCO AND THE MARSHALL TUCKER BAND

OCTOBER 18
MAGNOLIAFEST
LIVE OAK, FL

NOVEMBER 14
WEBSTER THEATER
HARTFORD, CT

NOVEMBER 15-16
B.B. KING'S
NEW YORK, NY

NOVEMBER 22
NORTHERN LIGHTS
CLIFTON, PARK, NY

NOVEMBER 23
JAXX
SPRINGFIELD, VA
PLEASE CHECK WITH
DICKEYBETTS.COM
FOR THE LATEST INFO