Dickey, you've written a bunch of fantastic songs, "Ramblin' Man," "Blue Sky" to name a couple... Could you tell us how and where those were written?
Click Here To Listen To The Following In RealAudio: "Ramblin' Man" and "Blue Sky" both were written in the big house in Macon, Georgia and we were all living together there. Well, let's see we all lived together there periodically... a few of us did have apartments but we would gather there. I wrote "Blue Sky" in the living room of that house and I wrote "Ramblin' Man" in the kitchen. And yeah, I remember those like it was last week when I wrote 'em. "Ramblin' Man" - I really didn't think it was a tune that we would want to record - I thought it was probably too country and Johnny Sandlin was producing Brothers and Sisters at the time. He said, "We need one more song" and I said, "Well, I got this tune. It's a bit country, but..." And I played it and everybody in the band went, "God! Where's that been?" (laughs) You know, everybody put their part to it and it turned out to be a big hit single. You know we didn't really go for big hit singles. We were more album oriented back then.
Where do you go for your inspiration in writing songs and how has that changed over time for you?
I don't know… some of it is just being someplace inspiring - like being in New York City - and just stopping long enough to let things happen around you. A lot of it is when I'm out in the southwest I get inspired by a lot of the beauty that surrounds me out there. Sometimes it's just things that other people are doing musically. I just saw the movie O Brother, Where Art Thou?  and I said, geez I grew up as a kid with this kind of music. I went out and wrote an Appalachian tune. I wrote it and then two days later we were doing it on stage. It's just from seeing and being subjected to other people's music – other styles of music. I listen to a lot of Django Reinhart, Charlie Parker, and Paco De Lucia and people that aren't my contemporaries at all. You can really dig into their stuff and then try to apply it to your thing. That way you're not being influenced by people like Santana. Or when Stevie Ray Vaughn was around – you know I couldn't listen to Stevie Ray Vaughn because I started playing his licks unconsciously even (laughs)... because I love it so much. So I listen to some of the older masters, you know some of the usual suspects like Robert Johnson and BB King and those guys.
Warren Haynes was a member of the Dickey Betts Band right from the start and then later joined the Allman's. How did you meet Warren?
Through David Allen Coe – the country singer – the original rhinestone cowboy! (laughter) David was living down here in Sarasota [Florida] and he and I were hanging out a bit and he was telling me about this slide player he had in his band. I said to him,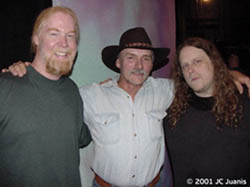 "What the hell are you doing with a slide player in your band. You're a country artist?" (laughs) So I went to see David one night and I met Warren there and sat in with them. I never forgot the guy – I said, "Man, that guy is something!" This was years ago. After the disco period was over and the record companies started calling me to put a band together Warren was the first guy I called. I said, "I've got a couple of record companies that want me to put a band together. Are you interested?" and he said, "Sure." So Matt Abts, Johnny Neel, Warren Haynes and I put a band together.
So how did you meet Matt and Johnny?
I just knew them. I knew Matt from town here. He's from Sarasota. I've seen him in bands down here and just always liked his playing. Then Johnny Neel I ran into in Nashville and he blew me away when I saw him. So I called those cats and we did that Pattern Disruptive album for Epic. It was a hell of an album. I just listened to that the other day. I haven't put that in in years. Man, I'm really proud of it. 
That is a great album indeed! Then you met Allen Woody a bit later on…
Well, I met Woody at just kind of a glancing, but I didn't really get to know him all that well back then. I know he was doing a bunch of stuff with Lynyrd Skynyrd and some of those boys and I had seen him play, but didn't really see him much until he showed up to audition for The Allman Brothers Band years later. There were about 20 bass players that showed up – we invited about 5 and 20 showed up. (laughs) Allen Woody was the only one who showed up with his own amp. (laughs) You know, he brought his whole rig in a truck and I said, "Well, this guy's serious. He's really here to get this gig," and he took it away from those other guys.
Yesterday was the anniversary of Allen's passing (August 26, 2000)… A very sad day… What was he like?
Click Here To Listen To The Following In RealAudio: Well, he was just a funny guy. I'll tell you what, he was absolutely brilliant. He came off as kind of a Good Ole Boy motorcycle hero kind of a guy, but that guy was... he had a real quick wit and a very high IQ and he was well read. He was more than what you thought when you just first meet him. And [he was] a wonderful musician and just a hell-raiser at heart...
Yeah, we sure do miss him.
Yes we do.
Your new band is phenomenal! You're back with your old friend and Allman Brother Band alumnus "Dangerous" Dan Toler. How did you guys renew your relationship?
He was kind of missing in action there for a few years. A lot of times you lose track of somebody and then you see them years later and they can't play anymore….
Not the case with "Dangerous" Dan!
Not at all. He's been working on some underground stuff, and that guy, he's the real deal. He's been working on a lot of original things.
He's really found a style that is Danny Toler. Back when he was with The Allman Brothers he really didn't have his own style. You know, he'd play some of my stuff and play some of George Benson's stuff… this that and the other. So anyway, I do quite a few benefits around town here and I called him and said, "Danny, I've got this benefit I'm doing. Would you like to come over and play some guitar?" He said sure and we played about a two hour show and he blew me away. He really picked up a lot over his missing years. (laughs) He's back full-strength and people just love him.
Well, we're glad to see you guys back together. He's definitely remained a player with some enormous musical chops. I listened to the new acoustic record The Collectors #1 and was just blown away…  
It's funny... Initially I said, "You know, this is not commercially viable but I don't care." That's why I call it The Collectors. I'm just going to do some stuff that's fun for us to do and we'll make it for the collectors and that's why I called it that. You know, a lot of times that becomes your best work when you approach a project that way.
What lead you to do an acoustic record?
I just wanted to do some acoustic stuff. It was really before I was hip to the O Brother, Where Art Thou? stuff. I didn't even know about that at the time. Ironically, The Collectors record is selling 3:1 to my Let's Get Together record. I think maybe the success of the O Brother, Where Art Thou? album probably has a lot to do with that. Of course when we play our full show we play an acoustic set. A nice part of doing the album is that I had my, well, I wouldn't exactly call him my guitar teacher, but – Dave Liles – play with us. Dave is a western swing player. I've known him since I was 18. He plays on the two western swing tunes on the cd. You can kind of pick him out between Danny and me. He's so subtle that you overlook him at first, but then you hear him and say, "Damn!" 
What guitars did you use in recording The Collectors?
I've got an Alvarez gut string and I ran it through a little amp which was mic-ed. I also used a Gibson Chet Atkins gut string. Dave was playing a J-50 and Danny was playing an Ovation with silken steel strings on it for the most part. The bass player was playing an upright electric bass - You get the technique but it's user friendly because you're running it right into the board. Then the drums, of course. Then on the Celtic thing we were using a Bodhrán - It's an Irish tenor drum sort of like an Indian pow-wow drum. Then I used a 1929 L-50. When you see pictures of Robert Johnson – I think his was a Kalamazoo – but it's very similar. It's the same company actually. Kalamazoo is made by Gibson. It's a ¾ body. I've got a 1929 that I love. I also have a 1927 but I used that '29 for that Robert Johnson stuff. Actually, Warren's playing on there too if you noticed. That instrumental piece that's kind of my impression of Willie McTell's "Blues Like " and then it goes into Robert Johnson's "Steady Rollin' Man" and then it goes into Robert Johnson's "Possession Over Judgment Day."  The three are kind of strung together and that's Tom Doucette, Warren Haynes, me and Gary Stewart, the country singer, doing those moaning vocal tracks.    
How much time did you spend making and mixing the album?
Mike Mahar spent a couple of weeks mixing it. He really burned some oil.  It took us about 5 weeks overall. It wasn't like we just went in and played it all live. When you hear three guitars, there really are three guitars. It's not like we overdubbed, but we did spend a lot of time rehearsing before we cut it. We really made an effort to make a good product.
You guys did a really good version of Bob Dylan's "Tangled Up in Blue." 
I'm kind of tickled with that. (laughs) We almost didn't do it because it didn't have enough movement or track and I came up with this little chord change that Bob doesn't really do in it.
Yeah, I noticed that.
You know you walk that little bass line up inside the chord and with that it kind of livened the thing up. I was telling Bob that I recorded it and he said, "You didn't use all eleven verses did you?" (laughs) I said, "No. I only chose five." (laughter) He said, "Yeah, that's what I do too." (laughs)
You actually have played with Dylan a few times…  
Click Here To Listen To The Following In RealAudio: Yeah, Bob's my old buddy from long, long years back. I don't know what he sees in me (laughs) but he thinks I'm a pretty cool guy. We were going to do "Ramblin' Man" one night at one of his shows. I said, "Let me write the words down [for you]." He said, "I know the words to that. I shoulda wrote that song." (laughs) I said, "Bob, you'll probably just make some stuff up knowing you." And he knew the words to that song exactly. It was like such a compliment that he knew the words to that. I mean, I was standing over there with my mouth hanging open and I said, "You know the son-of-a-bitch does know the words to that!" (laughter)
....


Help Support
Philzone.com
Buy The Offical
T-Shirt Now!


Show Your Love!
Vote For
Philzone.com
For Phan Site
of the Year
It Only Takes A Minute
PLEASE VOTE BEFORE 9.15
Please Tell Your Phriends!
*LISTEN*
WHILE YOU READ:
or Save Download
PC: right-click
Mac: option-click

Dickey with P&F
12.1.01: Mtn. Jam>
Bid U Goodnight
{Download}
7.27.02: Blue Sky
{Download}
7.28.02: Smokestack
Lightning>
{Download}
Goin' Down The
Road Feelin' Bad
{Download}

Dickey & Great
Southern Live 5.9.02
Acoustic:
Georgia on a Fast Train
{Download}
Seven Turns
{Download}
Electric:
Lets Get Together
{Download}
Southbound
{Download}

VIDEO
9.23.70: Dreams
More Vids Here
DICKEY'S
OFFICIAL WEBSITE:
DICKEYBETTS.COM
GREAT SOUTHERN
BAND BIOGRAPHIES
THE COLLECTORS #1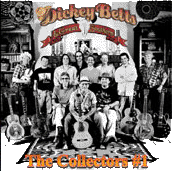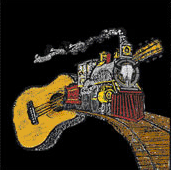 CLICK HERE FOR
MORE INFO OR
TO BUY THE CD


LET'S GET TOGETHER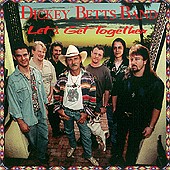 CLICK HERE FOR
MORE INFO, SAMPLES,
OR TO BUY THE CD
DICKEY BETTS
& GREAT SOUTHERN
TOUR DATES
SEPTEMBER 20
TRAIL OF TEARS
MADISON AQUATIC PARK
HUNTSVILLE, AL

SEPTEMBER 21**
MESKER AMPHITHEATRE
EVANSVILLE, IL

SEPTEMBER 26**
CUMBERLAND CO. COLISEUM
FAYETTEVILLE, NC

SEPTEMBER 28**
MEMORIAL AUDITORIUM
WINSTON-SALEM, NC

**WITH LYNYRD SKYNYRD

OCTOBER 10#
THE GROVE
ANAHEIM, CA

OCTOBER 11#
RADISSON
SACRAMENTO, CA

OCTOBER 12#
POZO SALOON
SANTA MARGARITA, CA

OCTOBER 13#
HUMPHRIES
SAN DIEGO, CA

#WITH POCO AND THE MARSHALL TUCKER BAND

OCTOBER 18
MAGNOLIAFEST
LIVE OAK, FL

NOVEMBER 14
WEBSTER THEATER
HARTFORD, CT

NOVEMBER 15-16
B.B. KING'S
NEW YORK, NY

NOVEMBER 22
NORTHERN LIGHTS
CLIFTON, PARK, NY

NOVEMBER 23
JAXX
SPRINGFIELD, VA
PLEASE CHECK WITH
DICKEYBETTS.COM
FOR THE LATEST INFO