There's definitely a few different styles going on on The Collectors...
Well, the Celtic tune I wrote for the project. Then the others kind of just came along like what would be good to do. As it turns out, that record is kind of like a catalog of influences that I've had over the years. My Dad played fiddle and guitar. He was a fiddle player but he could play guitar too. He was one hell of a fiddle player!  Then my Western Swing Dave Liles influences come out with that. One of my favorite song writers is Billy Joe Shaver so we did "Georgia on a Fast Train" and we did it Western Swing style. Then "The Preacher" is Western Swing thing too. Then we cover some Delta Blues and we do some Bob Dylan so it's just a catalog of influences. On the next volume, we might do South American Flute. Who knows?
You certainly made a project for yourself by labeling The Collectors with a #1 after it. (laughs)
Yeah, that's kind of indicating that we'll do it again sometime. (laughs) But first, I think we'll document a nice live performance then go ahead and do another Collector's album.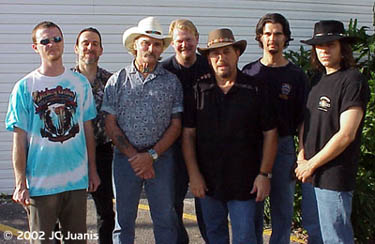 Dickey Betts and Great Southern
That sounds great. Talking about fiddle players I was going to bring up working with Vassar Clements (who played with Jerry Garcia and Old and In the Way in the mid-seventies) on Highway Call. How did you meet him?
Yeah, he's a Florida boy. I met him at a Bluegrass Festival and I was supposed to do that album with Stephane Grappelli but Stephane wouldn't fly and it was going to take him about two months to come over on a ship or I would have to go to Paris to make the record. I said I just met this guy Vassar at a Bluegrass Festival, so I'll just do it with him. Originally it was going to be a bit more of a rock jazz thing with Grappelli. We got John Huey to play some steel guitar and Chuck Leavell [now musical director for the Rolling Stones].
Do you still see Chuck?
I see him, but not nearly enough. We don't cross paths as much as I like.
I guess he's going to be pretty busy in the next couple of months! You're known primarily as a Gibson Les Paul player. When did you first start playing one?
Let's see… just about the time that Duane [Allman] and I got together. Duane was playin a Strat at first, and then he found a Les Paul. I was playin a 335 and I liked what he was getting out of his guitar so I got one. I guess that's the way I got started - in the early days with the Allman Brothers.
How did you meet Duane?
He and Gregg are from Tennessee, but really they're from Daytona Beach. We played clubs there from time to time around the state a lot. So we'd run into each other from time to time. I just got to know him that way. I used to date this girl who used to date one of those guys and she'd be talking about these two guys Gregg and Duane Allman who were so great. So I said, "Well, why don't we just go see them?"  So we went over to the Martinque Club in Daytona Beach and I said, "Damn, you're right. They're fantastic!"  and I met them and we played a bit together and the rest was history…
Going back to the Les Paul, how many do you think that you've owned over the years?
Not many. I bought a '57 which I still own.
Is that the one that you used to record "Jessica?"

Yes, that's the one. Then I had a '58 and a '59 and I gave those two away. I gave one to Chip Morman, a record producer in Nashville, and I gave one to Dan Toler. I still have my '57 and it started oxidizing so bad, you know with those metal flecks, so I had to refinish it. I decided to refinish it myself. So I sprayed it with nitrocellulose lacquer and dyed the front of it a nice red color and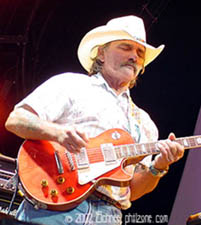 Gibson liked it so well that they've copied it. They're using it in their custom shop. The EPA allows them to make, oh, about 1,000 guitars a year and spray them with nitrocellulose because that stuff's so toxic they won't let them use it on the assembly line. Anyway, they copied the '57 so they're doing a big campaign. I think the campaign is: "Just Like Dickey's Guitar." (laughs) I dressed it up a bit. I put a Navajo Concho for the switch cover and I put a Navajo belt buckle down where you plug in down there. It's pretty classy looking. You might've seen the one I was playing at one of the Lesh shows. That was actually one of Gibson's copies which sounds better than my original '57. That's because they're using aged wood. They're selling the damn things for like $9,000 a piece, but you have to pay $30,000 for an original. So it's still a bargain.
What kind of a rig are you working with lately?
I'm using a 50 watt Marshall biased with more treble. I take it in and have them bias the tubes and match them so I get more treble out of it. Other than that, it's just stock. I use an Ibanez echo unit which they don't make anymore. It sounds a lot like tape echo. I'm using JBL Lansing Speakers which they don't make anymore either but I have a dozen brand new ones, plus the ones that I have in my speaker cabinets. They're just so damn durable that I'll probably never wear them out. I'm using just one cabinet with four JBL's in it and a 50 watt head and an Ibanez echo unit. I use a wahwah pedal on just a couple of tunes and as soon as I'm done with it I have Carlos come up and take it out of my line. I don't like a lot of stuff in my line. The cleaner the better.
Do you have any words of wisdom for any young players starting out today?
Well, just play a lot. You've got to play a lot and you've gotta do a lot of listening. You know, Eric Clapton didn't start the Blues. I don't mean that in a derogatory way… It's just that a lot of these young cats that I meet think that Clapton started the Blues. I say, "Nah, you've gotta go waaaay further back than that." You've gotta go way back past BB King way back to Son House, to Robert Johnson, Elmore James, and follow the lineage right on out and try to learn a little bit from each one of those guys. Albert King is not to be overlooked. Put your things together that way rather than base it all on modern players. You know the young guys have their favorite modern players but you can't base your whole thing just on them because you won't build a strong foundation. That would be my word. I do this column with Guitar World Magazine and I talk a lot about that kind of thing.
Yeah, I think that column has been a big hit! How about any slide advice?
Ah, geez. I just started playing electric slide again. I'm used to playing acoustic slide, but with the electric it's like I've gotten into a dragster. (laughter) I'm just getting used to it again. My advice is to look at Lowell George. You want to look at Duane Allman and Elmore James. Then you look to Robert Johnson and Willie McTell and you know, Taj Mahal and Jesse Ed Davis. He was a nice slide player. You just trace back "who did this cat listen to." That's the way to build a real good foundation to build your style from.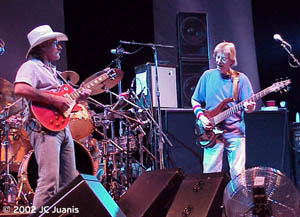 We've got a lot of fans in our circle that like to collect and trade live shows. Do you have any shows that stand out?
Oh hell, I'd definitely say any of the shows when we opened for Phil Lesh and Friends. Just about any of my shows that are full length... The ones where we play for 3 hours. We did one in Hampton and it was a little theatre. It was just a beautiful place to play and the acoustics were so good that we were playing with amps till about one to begin with. As the night went on we started turning it up a bit. (laughs)
Could you give us any comments about you and the Allmans parting ways? Have you come to any kind of understanding with each other?
Unfortunately, no. I'll tell you the God's honest truth, I'm not mad at anybody, I'm just disappointed. I didn't want to see The Allman's Brother's Band end its history that way. I hope that those guys do well. I wish them the best. I just wish things didn't have to happen the way... Sometimes things happen for the best, so I just have to wait and see. Things happen and things change. If there's one thing constant, it's change. (laughs) So, it's kind of a new era for me. I've got a bunch of younger cats working with me and they say, "What do you think of this tune?" and I say, "How about doing it something like this?" and they do the same thing with me so the music becomes more dynamic than I'm used to. There's just a lot of enthusiasm and I've developed a new liveliness to my approach and I'm real happy and proud of what we're doing.
You've been getting some stellar reviews and I sure hope fans reading this will get out and see you guys this Fall. Well, thanks so much for your time Dickey. It sure has been a pleasure.
Thank you so much.
Our immense gratitude to Mr. Dickey Betts for taking the time out of his busy schedule to speak with us.
Big ups to Mr. Flyer for setting it all up and for killer questions.
Thanks to the other peeps for more great questions.
Thanks to Andy G. for audio assistance.
Thanks to Schnee & JC Juanis for photos.
Special thanks to Jendee for transcription.

Conducted 8.27.02 by Bret Heisler
Interview © 2002 philzone.com and 2012productions.com.
All rights reserved.
All photos © 2001-2002 by photographers noted.
This interview or any photos included may not be reprinted anywhere in any form - online or offline - without the express written consent of Philzone.com. However, we certainly encourage you to link here.
....


Help Support
Philzone.com
Buy The Offical
T-Shirt Now!


Show Your Love!
Vote For
Philzone.com
For Phan Site
of the Year
It Only Takes A Minute
PLEASE VOTE BEFORE 9.15
Please Tell Your Phriends!
*LISTEN*
WHILE YOU READ:
or Save Download
PC: right-click
Mac: option-click

Dickey with P&F
12.1.01: Mtn. Jam>
Bid U Goodnight
{Download}
7.27.02: Blue Sky
{Download}
7.28.02: Smokestack
Lightning>
{Download}
Goin' Down The
Road Feelin' Bad
{Download}

Dickey & Great
Southern Live 5.9.02
Acoustic:
Georgia on a Fast Train
{Download}
Seven Turns
{Download}
Electric:
Lets Get Together
{Download}
Southbound
{Download}

VIDEO
9.23.70: Dreams
More Vids Here
DICKEY'S
OFFICIAL WEBSITE:
DICKEYBETTS.COM
GREAT SOUTHERN
BAND BIOGRAPHIES
THE COLLECTORS #1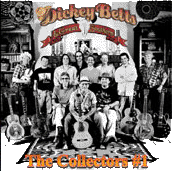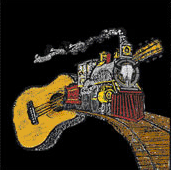 CLICK HERE FOR
MORE INFO OR
TO BUY THE CD


LET'S GET TOGETHER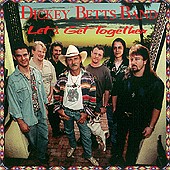 CLICK HERE FOR
MORE INFO, SAMPLES,
OR TO BUY THE CD
DICKEY BETTS
& GREAT SOUTHERN
TOUR DATES
SEPTEMBER 20
TRAIL OF TEARS
MADISON AQUATIC PARK
HUNTSVILLE, AL

SEPTEMBER 21**
MESKER AMPHITHEATRE
EVANSVILLE, IL

SEPTEMBER 26**
CUMBERLAND CO. COLISEUM
FAYETTEVILLE, NC

SEPTEMBER 28**
MEMORIAL AUDITORIUM
WINSTON-SALEM, NC

**WITH LYNYRD SKYNYRD

OCTOBER 10#
THE GROVE
ANAHEIM, CA

OCTOBER 11#
RADISSON
SACRAMENTO, CA

OCTOBER 12#
POZO SALOON
SANTA MARGARITA, CA

OCTOBER 13#
HUMPHRIES
SAN DIEGO, CA

#WITH POCO AND THE MARSHALL TUCKER BAND

OCTOBER 18
MAGNOLIAFEST
LIVE OAK, FL

NOVEMBER 14
WEBSTER THEATER
HARTFORD, CT

NOVEMBER 15-16
B.B. KING'S
NEW YORK, NY

NOVEMBER 22
NORTHERN LIGHTS
CLIFTON, PARK, NY

NOVEMBER 23
JAXX
SPRINGFIELD, VA
PLEASE CHECK WITH
DICKEYBETTS.COM
FOR THE LATEST INFO